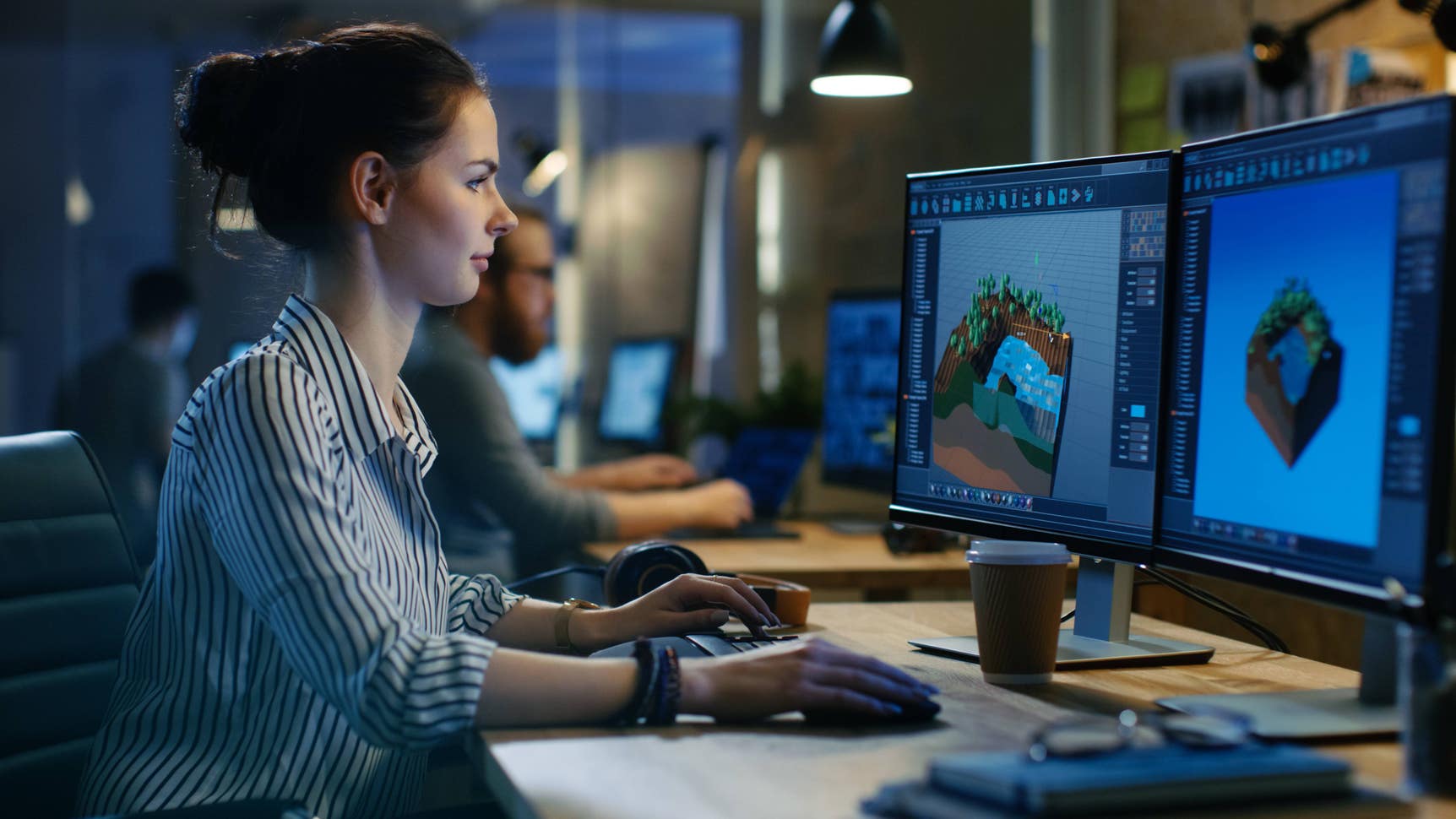 How to Become a Game Designer
---
---
How to Become a Game Designer
---
---
Discover the skills, qualifications and experience you need in order to become a game designer and begin your journey to creating your very own games that will be remembered for years to come.
Why Become a Game Designer?
Gamers, designers and creative people up and down the globe dream of becoming a game designer. Why? Well, because it gives them the freedom and excitement of using their artistic skills to create fun and fantastic worlds which people can explore interactively!
This dream job is ideal for creative minds, as game designers work as part of a team to create and design video games; from the characters and storyline, to the settings and the game play. Video games have come on leaps and bounds in the last few years, with storylines and game play becoming more advanced, and graphics getting more and more realistic. Whether you love playing on Xbox, PlayStation or PC, there is an ever-growing market for games across all genres, so you can really develop the ideas that most intrigue you.
What Qualifications Do You Need to Be a Game Designer?
Most game designers will have a bachelor's Degree, and the majority of large game companies will require their designers to have one. The most related fields to study in order to get into game design are computer science, game design or computer engineering, however other creative and computer-based degrees and game design courses can definitely help you get your foot in the door.
Here at CoursesOnline, you can study a Game Design with Your Programming Skills course, to gain highly sought-after programming knowledge and experience, and begin developing your game design career and get into the gaming industry. This online course can flexibly fit around your current schedule, and you can enrol any time so you can begin when you feel ready.
Skill Set Required for a Game Designer
Game design is about far more than just producing exciting creative work. For this reason, aspiring game designers must boast a certain skill set in order to be able to make the cut in this competitive industry. For example:
---
Team-working skills

Computer skills and knowledge

Leadership and project management skills
Creativity

Storytelling ability

Knowledge of gaming trends
What Does a Game Designer Do?
Game designers work as part of a team to create and design video games. As part of this, they are tasked with coming up with concepts, characters, setting, story and game play for the games they design.
They also collaborate with other professionals such as programmers and creatives when doing the above.
Average Salary for a Game Designer
Typical Duties for a Game Designer
Apart from designing video games, game designers are also responsible for:
---
Working creatively with other game designers and animators
Writing code and testing early versions of a game
Developing storylines and characters
Coming up with and pitching new game ideas
Leading teams and projects
Monitoring cash flows
Popular Career Pathways for Game Designers
Given the increasing popularity of game design and video games, qualified and experienced game designers are unlikely to find themselves struggling for employment.
Following a few years of working as a game designer, you'll have the opportunity to advance onto more senior roles and, eventually, lead designer roles, both of which will be more management-focused and thus pay considerably more.
Should you at some point decide working as a game designer doesn't suffice anymore, you may be able to become a game design consultant, a game design lecturer, or progress into other areas within the media/entertainment field.
Browse Game Design Courses Now!