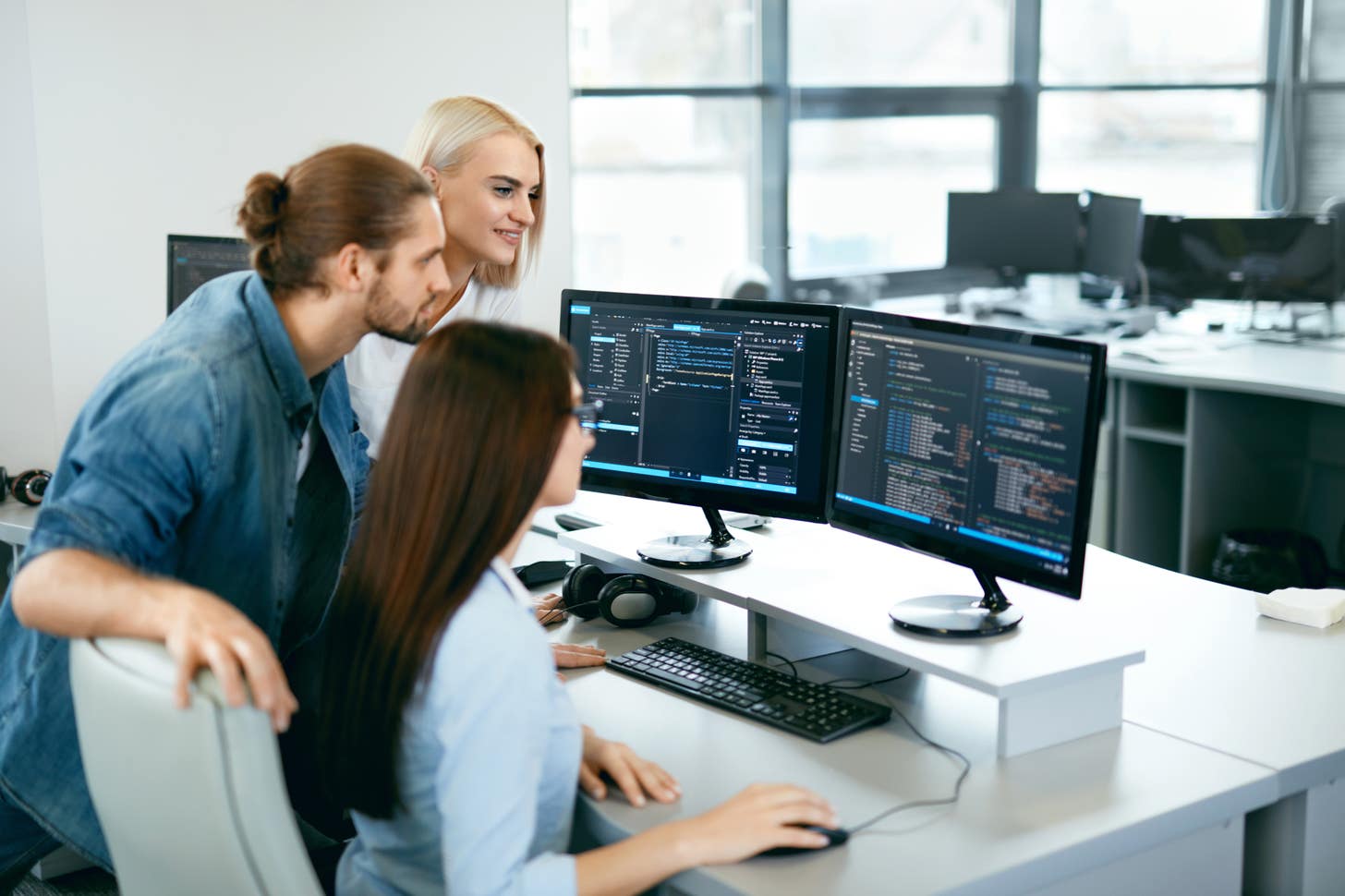 How to Begin a Career in IT
---
How to Begin a Career in IT
---
What is Information Technology?
Used by 21 million employees every single day, information technology involves developing, maintaining, and using computer systems to create, process, send and store all kinds of electronic data.
---
British employees working in the IT industry
---
Work in the Public Sector
Work in the Private Sector
Careers in IT
The term IT covers a wide range of careers, from the highly technical to the more business-focused. Are you a genius at maths with an excellent eye for detail? Then you're likely to make an excellent computer programmer. If you're better with people than with numbers, you'd probably be more suited to a role in sales or project management.
Whether you choose to specialise in computer programming, web design, or cloud computing, IT jobs are available at all levels, depending on your qualifications. You'll need to enjoy learning, as new technologies and software are constantly being developed, but there are plenty of opportunities to work on a freelance or contract basis.
While standard office hours are common within the IT sector, employees often work longer days when deadlines are looming, and support roles sometimes involve working shifts. If you opt for a career in technical sales or become an IT consultant, you'll probably be expected to travel.
If you're wondering how to get into tech, there are lots of different ways to get into the IT sector. There are lots of advantages to studying IT, and it can be the perfect choice for any career changer looking for a new opportunity.
---
How is the IT Industry Performing?
Information Technology is one of the highest sectors in the UK for growth. The fastest growing areas include cyber security, big data, web development, software development, and mobile development.
---
New IT workers needed every year
---
Where do IT Professionals Work?
Because information technology plays such an important role in everyday life, you won't be restricted to working for a software or hardware company once you've completed your training. IT professionals work in a wide variety of sectors, including retail, finance, communications, manufacturing, and the public sector.
Private companies like Apple, Google, IBM, and Microsoft also employ many IT workers, as do major telecommunications companies, including BT, Sky, Talktalk, and Virgin Media.
What IT Courses Do You Need?
There are several routes to a career in the IT industry and a few things to consider before you embark on a course. If you want to know how to start a career in this exciting industry, read on. 
Looking at online IT courses or courses that focus on digital skills can be a great place to start. As many of these are flexible and won't require you to take time out of your current role, you can build your skills whilst also building your wider career. Reading guides on IT courses for beginners can give you the career advice you need to help you find something that's right for you. If you're keen to start working at 18, why not opt for a higher apprenticeship, as this will enable you to earn while you learn? Apprenticeships last several years and lead to a level four qualification, such as an HNC. This can be a great option if you think it'll be difficult to get an IT job with no experience.
Alternatively, if you have a decent set of A levels, including maths, you could do an information technology degree at university before applying for a graduate-level job. Degree specialisms include computer game design, digital media, AI, and animation. If you graduate with a degree in a different subject, you can still enter the IT industry, although you stand a better chance of landing a job if you've studied a relevant subject like science, engineering, or maths.
Whichever pathway you choose, once you start work, most employers will expect you to master job-specific skills by working towards relevant industry-standard qualifications and certificate programs. There are many benefits of studying IT, so make sure you carefully consider which educational path and course are best suited to your goals. IT certifications and online courses can help you get a job in the IT field. 
Getting to grips with the fundamentals, taking time to gain experience, and building up your IT skills and tech skills will be the quickest path to a successful full-time career in IT.
What Are of IT?
Network Engineering
What Can You Learn?
Design, routing and switching, security and wireless networking
What Entry Requirements Are There?
No entry requirements for entry level certification
What Are of IT?
Information Security
What Can You Learn?
These cover databases, networks, hardware, firewalls and encryption
What Entry Requirements Are There?
Degree in a computing subject or demonstrate interest in cyber security via work experience
What Are of IT?
IT Service Managers
What Can You Learn?
This covers delivering IT services efficiently and reliably
What Entry Requirements Are There in this Career?
Degree in a relevant subject and professional qualifications
What Are of IT?
Highly regarded across all areas
What Can You Learn?
These cover Microsoft Office, Skype for business, SQL server, HTML5, JavaScript, Microsoft Dynamics 365, SQL Server
What Entry Requirements Are There?
No entry requirements for entry level qualifications
What Are of IT?
Application, software and web development
What Can You Learn?
These cover in demand computer programming languages including CSS, HTML and Java
What Entry Requirements Are There?
HND, foundation degree or a degree in IT, computer science or a related subject
What Are of IT?
Software Engineering
What Can You Learn?
These cover finding bugs and ensuring developers' products are safe to use
What Entry Requirements Are There?
No entry requirements for foundation qualifications
Soft Skills for a Career in IT
If you're an IT professional working in a client-facing role, you'll need strong communication skills in order to understand clients' needs, explain solutions and communicate technical concepts. Being able to communicate clearly is equally important when it comes to working collaboratively with colleagues.
Some careers in IT also require excellent problem-solving skills, as they involve defining problems, identifying the causes, and finding logical solutions. You'll need to be able to prioritise your workload and stay optimistic when confronted with challenges!
IT Salaries
The annual salary in IT careers varies based on experience, size of the employer, and the area of IT specialisation. Business-related careers, such as consulting and analysis are the highest paid IT careers in the UK. This includes IT business analysts and IT consultants. If you're already in an IT role, there are steps you can take, such as taking on IT courses that could boost your salary and help you show off your skill sets to potential employers on LinkedIn.
Junior IT Engineer Salary
---
Systems Administrator Salary
---
Senior Business Analyst Salary
---