Why should you consider doing a top-up degree?
Want a university degree without having to spend 3-4 years at a university campus?
Do it your way instead, and tailor your education to fit your life without compromising on outcomes.
Top-up programmes can be an excellent alternative to the traditional degree pathway – saving you money and giving you greater flexibility, while you get the prestigious degree you've been dreaming of.
---
What is a top-up degree programme?
Instead of studying an entire degree through a university, you complete a Level 4 or 5 course with a recognised institution and then use those credits to transfer directly into the second or final year of a degree.
How Course Levels and University Credit Works in the UK
Not sure how course levels and credits work? Here's a quick and dirty summary:
Level
Credits Needed To Get Qualification
Equivalent To
3
N/A

BTEC Level 3 Diploma

General Certificate of Education (GCE)

4
120

BTEC Professional Diploma

1st Year of Bachelor's Degree

5
240 total (120 + credits from level 4)

Higher National Diploma (HND)

Higher Certificate of Education (HCE)

Foundation Degree, 2nd Year of Bachelor's Degree

6
360 total (120 + credits from levels 4 and 5)
Bachelor's Degree
7
120
Master's Degree
---
For example, you might want to study business, so if you study a BA (Hons) Business and Management (Top-up) with University of Essex Online, then you'll progress straight into the last year of a business degree at one of their partner universities.
Julie is taking on a career change at age 28. She's a single mum who supports herself and her 4-year old son. Julie wants a degree because of the career prospects it will bring her, but she can't afford to work fewer hours and she needs to be available for preschool pick-up. But she knows she wants to start making changes now – the sooner she gets started on her education, the sooner she can get a better-paying, more rewarding job and build a better life for her and her son.
---
For people like Julie, taking the Online Business School's Level 4&5 in Business Management Course is an excellent option. It fits around your life circumstances now, but still allows you to finish with an internationally recognised degree from a university. The top-up route offers more flexibility in regard to study methods, with the option to take the course in your own time, online, and fit the courseload around your schedule.
The same advantages apply to whichever circumstances you might be in; whether living remotely, caring for a family member, working, or other commitments. Studying online with a course like this fits you, so you don't have to rearrange your life to fit university.
Find a course that fits you.
If you'd like to avoid getting into university debt, and don't want to struggle to make ends meet while paying off your study loans, a top-up programme is the way to go. This allows you to start a new career but minimise the financial burden this will put on you in the future. Taking the first two years of a course with Online Business School, such as Business Management or IT & Computing, can reduce the cost of studying through a University. Not only do you gain the same qualification for less, but you also avoids racking up huge student debt. Once you get your first job in the new field, you'll be well on your way to financial security and even saving for some big goals.
Costs can vary significantly between different universities and other institutions when completing courses at Levels 4 & 5, so it's definitely worth doing your research. You could end up saving money and coming out with an identical qualification.
Browse affordable top-up courses.
Freedom to Choose Your Path
---
Choosing a new path can be overwhelming sometimes, especially when you're not one hundred per cent certain of the direction you want to go in. When you're just starting out, the decisions you make can feel pretty high-stakes, but opting to complete Levels 4 and 5 at a nationally recognised institution rather than a university can lead to more freedom and flexibility when it comes to the final year.
---
Luke knows he loves computers and IT. There are a lot of specialisations you can take in this industry, and the university courses to match it. He feels anxious about picking the wrong one – what if he changes his mind, and it costs him thousands of extra pounds and years longer to finish? What if he decides he's interested in pursuing a related path further down the track, but finds he is locked into the degree he chose?
---
If you become especially interested in one stream or specialisation, you can progress to a degree that focuses more specifically on that. You don't have to choose the same course, as long as it's related – so you have more options once you've had the chance to study and learn about the subject.
Open up your horizons.
Getting into University: Entry Requirements
---
Often, the school you study with has agreements with universities, allowing you to automatically continue on to complete the degree with them, but you also have the option to take the credits and use them to get into any related degree at any university that recognises them – including overseas study and distance learning university courses.
Find your pathway.
---
Here are a few of the different top-up degree paths you can take after you've completed your Level 4&5 qualification:
Top up at your choice of UK university

You can apply for any university you like which has a related degree available, and all UK universities will recognise credits from an OFQUAL certified course. You will just have to make sure you fulfil any additional entry requirements they may have; every university can be different in this respect, so read their application materials closely. Choose from studying part-time or full-time on campus, or some universities allow you to complete your studies via distance learning.

Top-up at an overseas campus of UK university

Fancy studying abroad? You can use your credits to apply to a UK university with a campus overseas.

Top-up at non-UK universities

If you have your sights set on a particular overseas university, you can apply to study there using the credits earned in your previous qualification. Universities in the US, Canada and Australia all generally accept credits from UK institutions. And you won't even necessarily have to leave the country, as you do have the option to study via distance learning with some universities.
How Progression Works with Top-Up Courses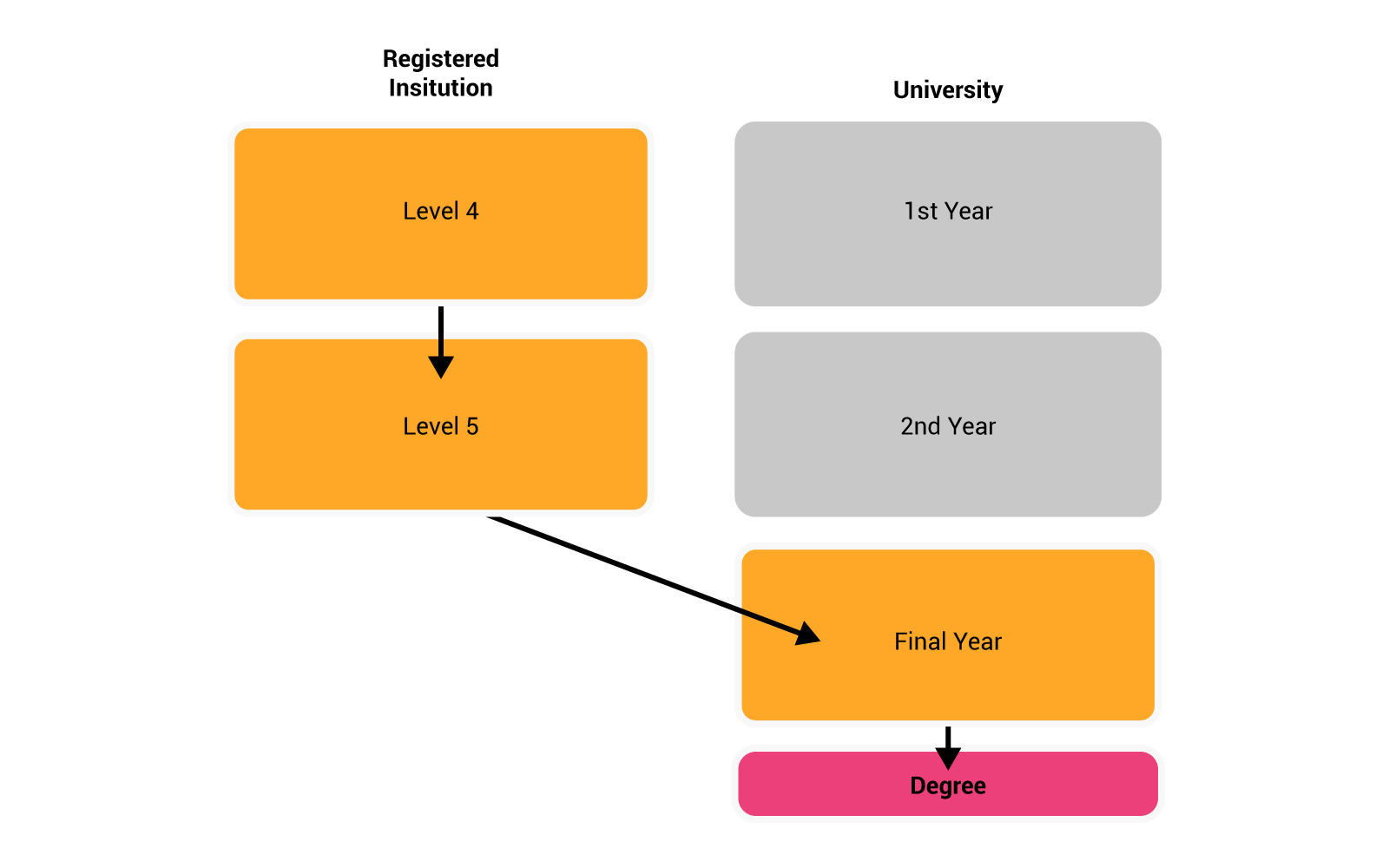 So, if you've got a degree in your sights but you're looking for a pathway that better suits you, doing a top-up programme could be the ideal solution.
For the best career opportunities, look for industries and professions that pay well without demanding ridiculous amounts of time at uni. Two of the most rapidly growing and well-paying career paths in the future are in areas related to business and IT. Leverage your time and money by completing Online Business School's Level 4&5 Business Management or Level 4&5 IT and Computing courses. They come with the added benefits of flexibility, the freedom to choose your degree pathway, plus the potential to save some considerable cash and avoid crushing student debt – while you come out a step ahead with that coveted degree.
Don't let life get in the way of your dreams – do your degree your way.
Take the first step towards a degree.