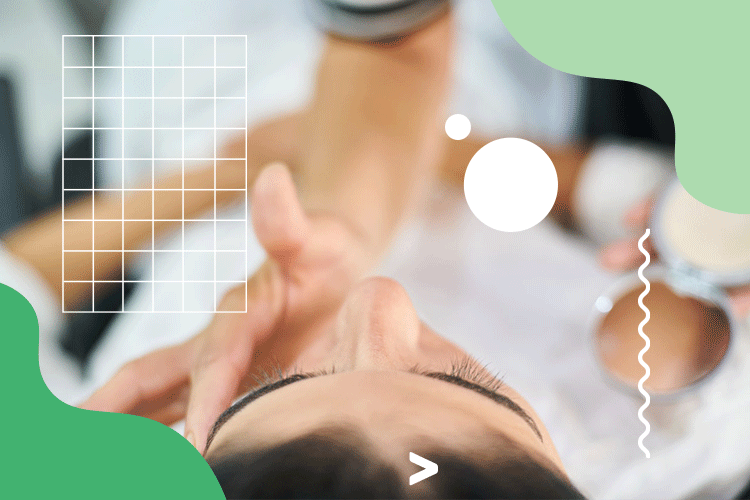 If you have a knack for all things beauty, love making people feel their best, and want to explore your creative side, then beauty therapist might be your dream career. 
Specialise in an area you are passionate about, such as makeup artistry, massage, or manicures, or you want to do a bit of everything and make your clients feel incredible with your expert skills.
Find out more about this creative career in the beauty industry and discover whether it's the career path for you.
What does a beauty therapist do?

Beauty therapists carry out a range of beauty treatments on clients, including relaxation treatments, skincare procedures, and beauty treatments. 
Beauty therapists have to have a diverse and in-depth knowledge of skin biology, cosmetic chemistry, and anatomy, as well as the creative and interpersonal skills to cater treatments to their clients. Some of the routine treatments that beauty therapists do are:
Massage
Facials
Manicures, Pedicures, and Nail Art
Makeup
Hair removal
Hairdressing
Tanning
---
As you can see, a beauty therapist has a huge range of treatments they offer, and when you train to become a beauty therapist, you will need to know how to carry out these treatments. 
However, when fully qualified, many beauty therapists specialise in specific areas such as makeup artistry or massage.
Is beauty therapy a rewarding career field?

For several reasons, working in beauty therapy is a fulfilling and rewarding career choice. First of all, as a beauty therapist you will get to use your artistic skills to create unique makeup looks for clients. 
If you sit at home trying new makeup looks on yourself and following all beauty bloggers for top tips, you will love creating new looks for clients. Using your own creativity is incredibly rewarding in itself, and that is especially true when it helps your clients feel fantastic. 
Helping others look and feel beautiful is another reason that beauty therapists find their job so rewarding, as helping others is an incredible feeling. 
Whether it's a wedding look for their special day or an everyday look to increase their confidence, there is really nothing else like seeing a client ooze confidence as they smile at their reflection with a makeup look you've given them.
Can I pivot my current career towards beauty therapy?

There are a lot of transferable skills that can be relevant to being a beauty therapist, particularly if you have worked in a customer-facing environment. 
Beauty therapists work with clients every day, so if you have worked in retail or customer service, you can bring those skills into your new career.
Any experience working in a creative environment can also help with your beauty therapy career, and if you have personal knowledge or experience with beauty products or spa treatments, this is also a plus. 
For the more therapeutic side of the industry, such as massage and skincare, experience in the medical field can be beneficial. You will be familiar with people who might be suffering stress or ailments that massage can help soothe. 
You can further increase your career opportunities in beauty therapy by studying hair and beauty courses. Courses like these teach you how to do key beauty treatments such as eyebrow threading, waxing and makeup application, and cosmetic theory and skin science. 
No matter what environment you currently work in, there are likely to be some transferable skills relevant to beauty therapy as it is such a diverse field. From working in a team with other colleagues to helping customers, and even the administration side of booking appointments. 
When applying for beauty therapy jobs or courses, make sure to highlight these transferable skills. By undertaking an online course to teach you the ins and outs of beauty therapy, pivoting your career into beauty therapy can be significantly easier than you might think.
What are the career prospects for a beauty therapist?

There are several career options for beauty therapists, including working in beauty salons, retail stores, healthcare facilities, or being self-employed and running your own salon. 
Beauty therapists can also work from their own home or with a mobile salon, offering treatments in clients' homes. 
You will know by now just how diverse a career in beauty therapy is. Gaining extra certifications can increase career prospects and job security in this thriving industry, as well as help you build expertise in the area you most enjoy. 
There are also plenty of opportunities to specialise in areas that appeal to you, such as working as a makeup artist or nail technician. 
For example, if you want to become an expert in eyelash extensions, you can study a course in that area. Meanwhile, you can explore a variety of other specialist courses online to help you gain extra skills and knowledge in a particular area of beauty therapy. Nail technician courses are great for those wanting to specialise in manicure and nail design.
Do I have to have a background in beauty therapy?
If you do not have a background in beauty therapy, then don't worry. You can still enjoy a career as a beauty therapist. Whether you are just starting on your career journey or are pivoting into a new career entirely, there are many opportunities for you to become a beauty therapist, even if you haven't yet had experience or training. 
Suppose you have a pre-existing interest in makeup and or beauty treatments. In that case, this will really help you become familiar with the process of different treatments, which products work well for which skin types, and the application of beauty products. 
Whether you enjoy makeup yourself or love visiting your local beautician, this will give a good basis to learn more about working in the beauty therapy industry yourself. With this pre-existing knowledge, studying beauty therapy courses such as those mentioned above can really help you gain the in-depth knowledge you need as a beauty therapist as well as practical skills.
Shadowing a beauty therapist or even working on a makeup counter at a beauty store or as a receptionist as a salon, this will further increase your opportunities.
What skills will be the most useful?

Successful beauty therapists need a range of skills, including interpersonal skills and technical abilities. Some of the most useful skills you will need in this career include: 
Communication skills to support clients and customers
Practical skills to use techniques and apply treatments to a high standard
Empathy and understanding
Creativity and adaptability
Knowledge of anatomy and skin science
Selling skills
Ability to work as part of a team
Basic IT and administration skills for booking appointments
---
Working as a beauty therapist can be a rewarding, unique, and creative experience, encompassing the excitement of creative freedom with the pleasure of helping others. Whether you want to specialise in one treatment or are just keen to work in a salon learning a variety of skills, beauty therapy could be just the career for you.
With ample opportunities to study online and use skills you are already using in your current job, there is no reason not to explore a career in beauty therapy today. Take a look at our courses and find out how you can get started.
---
Browse Courses!