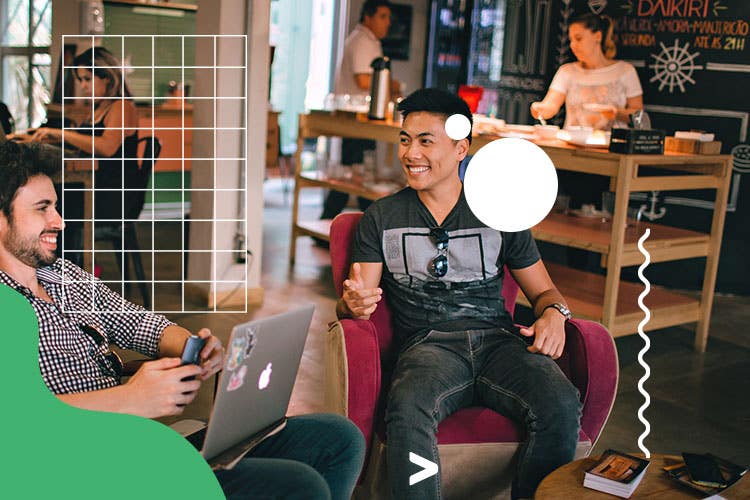 Do you have a creative muscle you can't wait to flex? Forget what you've been told before now. Finding a high-paying creative career is easier than you think.
Whether you've got a stellar idea for a new video game or want to work with the world's leading fashion designers, a career path will get you there. So, what are the highest paying creative jobs, and how can you get started? We've got a quick cheat sheet for you here.
Graphic designer
Graphic designers earn between £18,000 and £35,000 per year, according to the National Careers Service. That is based on full-time of 37 to 45 hours per week with some possible evening work.
It doesn't end there. Keep in mind that you may be able to earn more if you decide to go freelance or set up your own business. As you gain experience, your pay scale will go up. Recruiters are constantly offering design jobs.
Once you have started out, you may want to look into either interior design, web design, or product design to further your career.
How to become a graphic designer
If you're creative and want to kickstart your career, it's worth learning how to become a graphic designer. You may want to start out with a GCSE or A level in a creative subject, such as textiles, fine arts, or media. Alternatively, you may be able to get a BTEC in graphic design from a local college or online. 
Believe it or not, you can start your creative career in graphic design without any formal qualifications. However, you may want to get some vocational certificates under your belt. For example, you may want to undertake some Adobe suite courses to give you the knowledge of InDesign, Illustrator, and Photoshop you need to succeed.
Marketing manager

Becoming a marketing manager is good news for your bank account. According to the National Careers Service, these professionals earn between £27,000 and £65,000 per year. You will need a diverse skillset and years of experience to get started on this career path.
How to become a marketing manager

Ready to become a marketing manager? If you're a creative person with excellent communication skills, this may be the career path for you. Many professionals get into this role by completing a bachelor's degree in a relevant field.
However, you can also look at online courses. For instance, you could complete a digital marketing course, SEO course, a leadership course, or a management course. When you gain some project management experience and use your creative skills, you will have the foundation you need.
Advertising copywriter

If you have a way with words and want a creative career, you may consider becoming a copywriter. You will use your communication skills and originality to craft slogans and any other text for advertising campaigns. Advertising copywriters work across media industries, earning anywhere between £20,000 and £80,000 per year. 
How to become an advertising copywriter
Starting out doesn't have to be complicated. You may want to gain a bachelor's degree in journalism, public relations, or content writing. With that under your belt, you can become an advertising copywriter with a view of becoming a creative director one day.
This vocation is entirely based on your skills and talents. To strengthen your skillset, there are plenty of online courses you can take. You may want to get started with a digital marketing qualification, an SEO course, or even a course in social media marketing. The more you flex your creative muscles through studying, the stronger they will become. You may want to start looking for roles on LinkedIn or get some experience in related fields.
UX designer

Want to work in a creative team? UX (user experience) designers are in high demand, so you can bet that these positions pay well. These creative professionals earn between £25,000 and £50,000 per year, according to the National Careers Service.
You can expect to work between 37 and 39 hours per week with some evening work. In this fast-paced creative role, you will work alongside web developers to create easy-to-use websites and apps.
How to become a UX designer
To become a UX designer, you will need a strong foundation in both design and development. Since this is a relatively new field, you will need to keep on top of the latest updates and trends in the sector. Many creative professionals learn on the job, picking up new skills as they work. You will need to have a robust portfolio to land your dream role. Yes, the more work experience you have in the world of design, the better your chances. 
Looking to get started? Gaining some practical skills is the way to go. Fortunately, there are many online courses that you may wish to undertake. You may want to learn the basics with an IT qualification and then move on to a course in programming, web development, or digital skills. If you're looking to dig a little deeper, it's savvy to gain a formal qualification in app development or software development. Take a look at your options and see which of the available qualifications suits your long-term goals.
Video editor
Video editing is a high-value skill, and this role pays well. You can expect to earn between £18,000 and £45,000 in this creative role. While this position does pay well, it can be demanding.
You may find yourself working up to 41 hours a week and even working during the evenings, weekends, and bank holidays too. As you might expect, the career requires a variety of both soft and technical skills needed for video editing.
How to become a video editor
Think that you have what it takes to become a video editor? You may find that you can take a specific certification at college or online. Getting to grips with the software you will need to use is the first step. For that reason, taking a course in Adobe software may be a good place to start. Additionally, you will need to start building a strong portfolio of work. 
Ready to get started in the creative world? If you're looking for the best high-paying jobs in the sector, these five are great options. Now that you've got the inside scoop, why not further your education and gain some work experience?
---
Browse Courses!