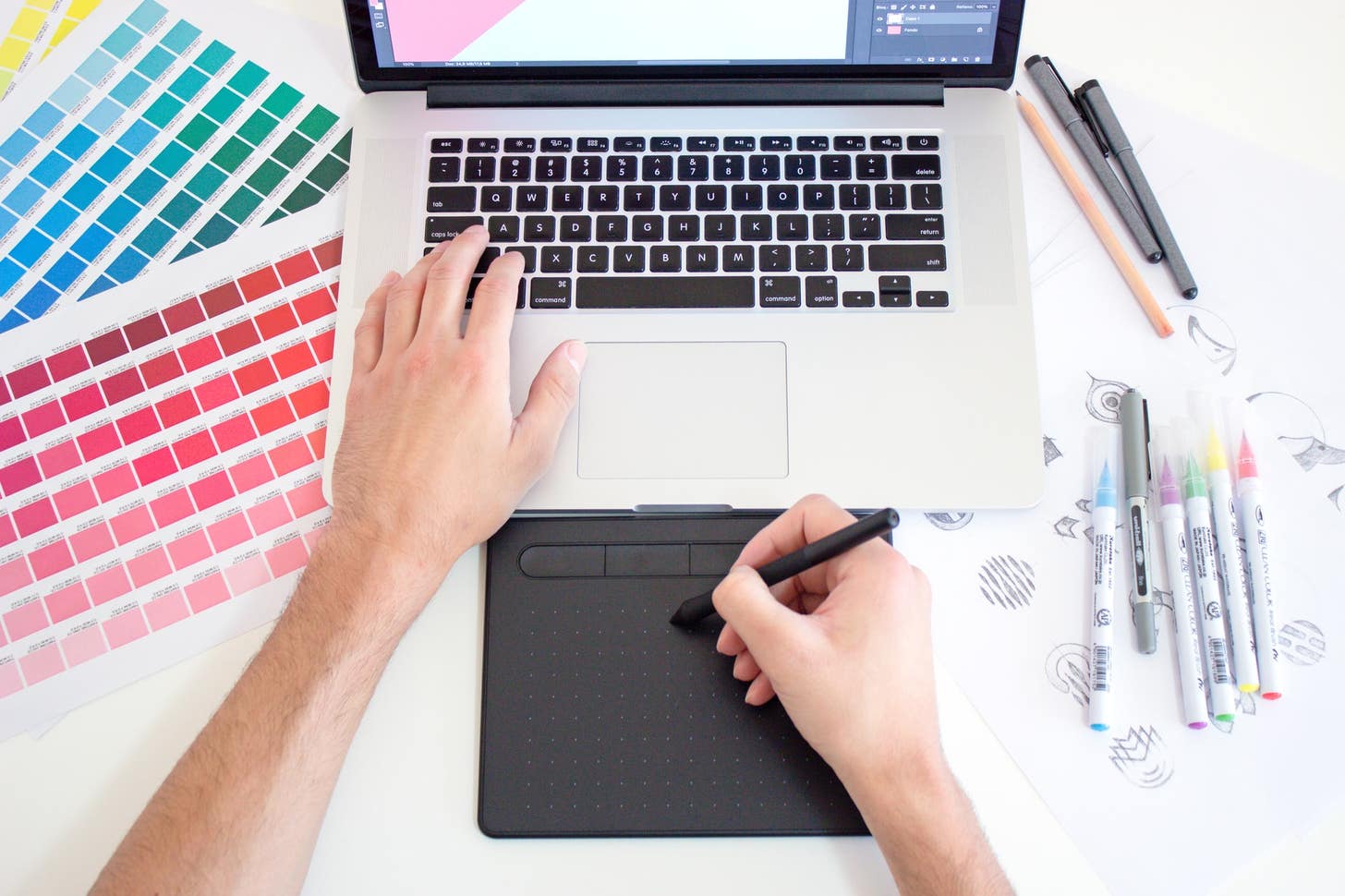 How to Become a Graphic Designer
---
---
How to Become a Graphic Designer
---
---
Do you want a career which utilises your creative skills? Are you an artist keen to get your designs out there? Then consider becoming a graphic designer. It is a common misconception that creative skills are rarely useful in the working world, but that is far from true. 
Whether you have an art degree already or are considering a new career in something more design-oriented, there are a variety of opportunities for graphic designers in the workplace. Whether you want to create visually interesting web design, product packaging, magazines or adverts, find out below how you can embark on a career as a graphic designer.
What Does a Graphic Designer Do?

Graphic designers are employed by organisations to produce designs which will appeal to their customers and clients. This can include any aspect of a business which is visual such as adverts, logos and websites. 
Many graphic designers are freelance, working with different organisations as and when they need an advert or logo design, however they can also be employed by companies to help full time or part time with their branding of products, webpages, brochures and magazines. 
Graphic designers will need to work with the organisation to discuss what type of design they want, what the budget will be and the timescale they need the design within. Some of the daily tasks of a graphic designer include:
---
Liaising with potential clients and discussing creative briefs for projects
Discussing budgets and timescales with clients
Creating design concepts
Give presentations of your ideas and discuss rough drafts
Forming the design using hand techniques or graphic design software
Adapting the design based on client feedback
Keep up to date with design trends
How Much Does a Graphic Designer Earn?

Graphic designers can see wages vary significantly. Some choose to work for agencies, others in-house, and some can take on a variety of jobs as a freelancer. 
According to the National Careers Service, graphic designers' salaries start at £18,000, with senior graphic designers earning up to £40,000. Graphic designers may earn more if commissioned to work on big projects for large brands. The key to unlocking higher earning potential is to amass a respectable portfolio of work, which will allow you to pitch for high-profile clients.
Upper Salary for a Graphic Designer
What Qualifications are Needed to Become a Graphic Designer?

Most graphic design jobs require a degree or diploma in a creative subject such as graphic design, fine art or illustration. Entry requirements for courses such as BA Fine Art or a Graphic Design Level 4 Diploma vary, but it helps to have a design portfolio of your best work and designs. 
Having GCSE or A-Level Art, Textiles, IT or Design can also put you at a great advantage. There are also opportunities to study a Graphic Design apprenticeship or internship, which include primarily on the job training potentially with weekly tutorials. 
If you have a degree in another subject area, or you don't have a degree or diploma, you can also get graphic design work by building a portfolio of your designs and undertaking short courses. 
There are a range of online Adobe courses which teach the fundamentals of design, as well as courses in art and in areas of digital design such as Adobe Illustrator, Adobe InDesign, Adobe Creative Cloud and Adobe Photoshop. 
These graphic design courses can build a great foundation for your graphic design career, teaching you vital graphic design skills, design principles and giving you an insight into design tools. 
It might be more challenging to get roles without a degree or diploma however you can apply for entry level roles and alongside your paper or online portfolio, short courses and demonstrable passion, there are plenty of opportunities.
What Skills are Needed to Become a Graphic Designer?
Graphic design requires a range of hard and soft skills, as you will encounter many different jobs and often work with many different clients during your career. Some of the key skills a graphic designer needs are: 
---
Ability to creatively come up with new designs

Communication skills

The ability to interpret a design brief

Technical skills in artistry and design

Excellent attention to detail
Excellent time management skills

Knowledge of design theory, typography and colour theory

Knowledge and experience of digital design programs

Adaptability
Does Becoming a Graphic Designer Require Work Experience?

There are no work experience requirements in order to become a successful graphic designer, however any potential employers will highly regard work experience. Getting real-world experience directly related to graphic design might be challenging, particularly if you don't have many qualifications, however seemingly unrelated experience can also be beneficial. 
For example if you have previously worked in a customer service role, this can help with your communication skills. It is good to gain some experience in a creative role if possible, even if it just involves a few weeks shadowing a designer to see the design process or work in an art shop.
Career Prospects for a Graphic Designer

Graphic design is a diverse and interesting area, and allows ample opportunity for you to work in an area you are passionate about. Whether that is working for charities, designing logos for high end companies or creating website designs for local businesses. 
You can work in a creative studio, an office or from home as a freelance designer, giving you the freedom to choose which projects you take on. You can also develop your career further and progress to design management, become a senior designer or a creative director. 
Graphic design is an excellent creative career path for artistic individuals who want an interesting, rewarding and futureproof career. 
Graphic designers will always be needed and by working freelance you have the freedom to choose which projects you take on. With opportunities for career progression and high earning potential,  becoming a graphic designer is a great option for budding artists and creators.
Are you interested in beginning a career as a graphic designer? Explore courses today and find out how we can help you start your professional journey today.
---
Browse Digital Skills Courses Now!