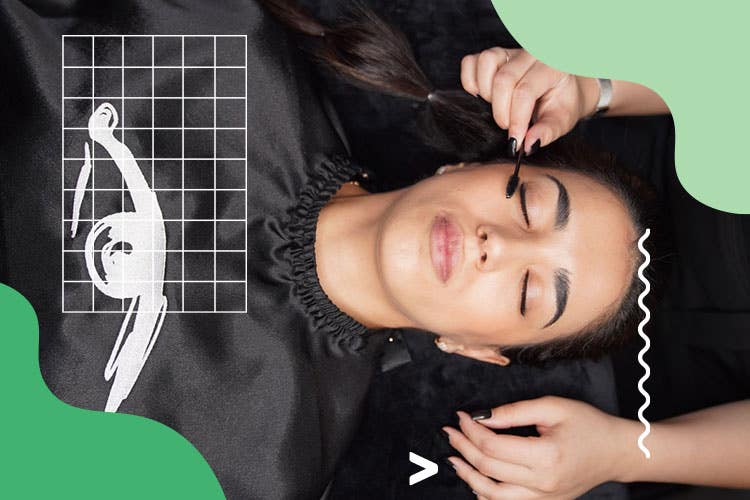 Lash treatments and extensions are an exciting area of beauty, and there's so much to discover. Sometimes this can be a little overwhelming, as there are lots of different lash treatments out there. 
We'll walk you through the different types of treatments that are out there and give you advice on how you can become a lash expert and use this knowledge to build your career.
Are there many different types of lash treatments?

As the beauty industry grows and beauty therapists get ever more creative, there are even more exciting beauty techniques coming to the forefront. It can be challenging to keep track of them all, but often different techniques are related and have common skill sets that can be built upon in order to deliver them to eager clients.
A lot of people will have already tried some of these techniques at home or may have had them administered in a professional setting. If you're eager to learn more about how to perfect these styles, there are plenty of online courses out there that can walk you through the latest treatments and techniques. 
Although the beauty industry is quite accessible, it's a good idea to get professional training before trying out intricate techniques on other people. Reputation is everything in the beauty industry, so ensuring that you can always offer a high-quality and professional experience for customers and clients is vital. But what are some of the most common treatments, and how difficult are they to learn? Read on to find out more about some of the most exciting treatments out there and how you can become a pro at lash techniques and styles.
What are lash extensions?

Lash extensions are a treatment in which customers have semi-permanent eyelash extensions attached to their eyelashes. They can be made out of a range of materials and are usually attached using glue. 
The benefits of extensions are fuller, more striking-looking brows. Getting the application process right is important, which is why many choose to get the lashes applied by a professional. 
Some people choose to apply their own extensions at home, and with practice and a steady hand, they can become a natural at this beauty technique. For those who want to get to a professional standard, taking an eyelash extension course can be an excellent idea. 
If you're considering becoming a beauty therapist and want to specialise in nails, getting knowledge in this area will be a step in the right direction.
What is a lash lift?

Lash lifts are a procedure where customers have their eyelashes lifted and curled through perming. So, how long does a lash lift last? Well, this treatment can keep your lashes looking full for weeks. 
What are some lash lift pros and cons? Customers love the longevity it can offer, but if your lash technician doesn't know what they're doing it can be a damaging procedure. Although this is rare, it's always a good idea to take a lash lift course if you're planning on giving people this treatment in a professional setting. 
Best of all, as this technique takes a bit of skill, if you're qualified in this area, clients will keep coming back to you, as you'll be a technician they know they can trust.
What are strip and individual lashes?

Strip lashes are a row of lashes that are applied across a customer's eyelashes and create an even look over the entire eyelid. Individual lashes are lashes that are placed on one by one to fill in specific areas or to make areas look fuller. 
Both types of lashes take some skill to apply yourself. Individual lashes are especially tricky and need a very steady hand and a high amount of precision. If you want to become a pro at home or give others this treatment, taking a strip and individual lashes course is a great idea.
Lots of people find this particular lash treatment to administer themselves, so if you want to stand out as a lash expert, getting qualified in this area is a great idea.
How can I use these skills within my career?

Eager to start learning? If you want to become a lash technician, either at home, in a salon, or elsewhere, exploring online guides or taking on a Threading Diploma that gives you a great entry point into the beauty industry is the perfect place to start. Picking up skills in lash treatments can be used in a variety of settings. 
Another route you could go down is showing others how to perfect at-home lash treatments via social media or other mediums. Research from Upfluence found that beauty influencers have an average of around 700,000 followers on TikTok, 430,000 followers on Instagram, and 400,000 on YouTube.
Being able to share your skills and techniques with a large audience could be a lucrative and creative career opportunity. Learning how to edit videos, as well as learning some social media management skills, can help you to take off and make a sustainable income out of your passion.
Is it difficult to turn a passion for lashes into a career?

With the right training and determination, there's no reason why you can't step into the hair and beauty industry.
Working out what kind of role you'd like and how much time you'd like to commit to it will help you to work out where you should invest your time. Bear in mind that if you're working on a freelance basis, you'll likely earn a reputation through testimonials and reviews, so getting yourself out there will be a big part of your success. 
Spending time in a beauty salon, speaking to those already in the industry, and becoming qualified will help you turn your passion into a full-time career. With enough work and dedication, there's no reason why you can't succeed in this area.
Are you keen to start your education journey today? Explore the courses we have on offer and see how you can take a step into this exciting career.
---
Browse Courses!