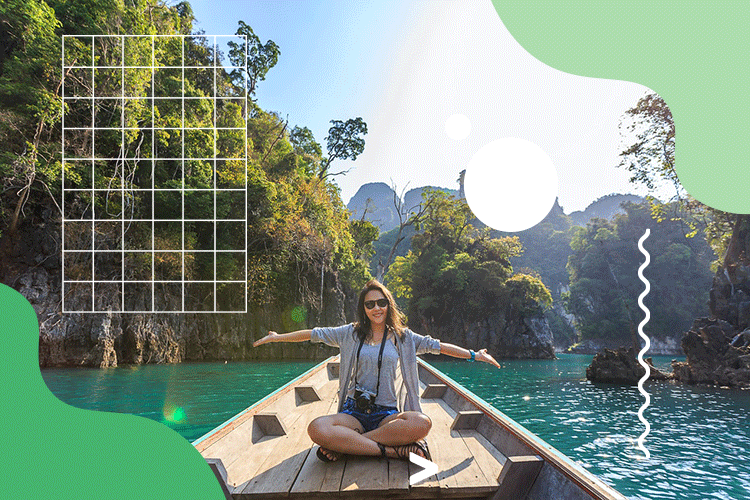 With data from the ICCT showing that air travel is one of the most serious causes of individual emissions, many are looking at ways to reduce their environmental impact when it comes to travelling.
More and more companies are aiming to help people in this endeavour, opening up new opportunities for those who want to work within the ecotourism sector. Does this sound like the ideal job for you? Find out how to get involved in this article.
What does ecotourism mean?

The International Ecotourism Society defines ecotourism as "responsible travel to natural areas that conserves the environment, sustains the well-being of local people and involves interpretation and education." In other words, ecotourism is all about seeing new and exciting places in the right way that limits your negative impact and is respectful to areas of nature of indigenous populations, local communities, and animal habitats.
Ecotourism can also be applied to a broader principle of travelling to new places in a way that is conscious of the environmental impact that travelling can cause. UNESCO lists 52 world heritage sites that could be at risk of serious damage or collapse due to environmental changes, pollution, or outside factors. Ironically, the act of travelling to some of the world's most beautiful natural wonders could also cause their extinction in the long run.
Ecotourism seeks to alleviate some of these issues and provide an alternative for those looking to shrink their footprint when travelling to breath-taking sites worldwide by practising responsible tourism that respects biodiversity.
Examples of ecotourism

---
Staycations

Mindful tour routes

Tours that reinvest in communities and nature
---
There are a number of ways in which ecotourism can provide a solution to some of the environmental issues that occur from over-tourism and international travel.
Ecotourism in practice can vary depending on the situation. In some instances, tourism companies may work with local populations and wildlife protection agencies to ensure the most environmentally considerate approach to seeing an area is taken.
Elsewhere, for those who are looking to see new places in a way that reduces their carbon footprint significantly by choosing to stay closer to home. In 2021, the UK saw a considerable rise in staycations, with data from Campsites.co.uk showing a 300% increase in home-based getaways. Although this was partly due to restrictions on holidays at the time, it shows that a huge number of people were shown the benefits of a lower-emission holiday at home.
What are some of the benefits of ecotourism?

The big selling points of ecotourism are its drive to reduce the carbon footprint left by holidays, and the impact travel can have on communities and environments in other parts of the world. 
There are lots of benefits when it comes to ecotourism for those looking to enjoy a holiday as well as those looking for a career in the area. Roles within this subsection of the tourism industry are growing fast and are a great future-proof source of work.
Is now a good time to work in ecotourism?

The short answer is: yes. Travellers are becoming more conscious of their impact on famous world sites and are keen to work with companies who can help reduce it. It's an excellent time to step into this career field.
According to Booking.com, 32% of travellers feel guilty about their vacation's impact on the environment, whilst 54% have seen the visible impact of tourism on a destination they've visited. The same study also found that 70% of consumers would be happier booking an accommodation that was eco-friendly. 
Data like this shows a growing appetite for sustainable tourism, which could translate into a sharp rise in job opportunities for those looking to move into an ecotourism job. From a training perspective, anyone who would be interested in starting a career in tourism generally could see significant benefits from upskilling in ecotourism at the same time.
---
Consumers that would be happier booking eco-friendly accommodation
Consumers that have noticed a visible impact of tourism on a destination
Travellers that feel guilty about their impact on the environment
How to begin a career in ecotourism

Although there's no set formula to step into this career space, there are a few things that you can do to help you get started. 
Become qualified

---
Taking on a course in travel and tourism, which includes training around ecotourism is a smart way to break into the industry and learn skills that are likely to grow in value over time. It's important to learn as much as possible about the principles around solid customer service and communication skills, as well as the ins and outs of domestic and international travel. 
Find your niche

---
It can be a good idea in ecotourism to choose an area you'd like to specialise in. Finding a niche can help you to stand out and find success in your career. 
You could find eco-friendly ways to travel to well-known destinations and holiday spots. Alternatively, your niche could be giving the best staycation recommendations, or you could even work with communities to promote sustainable travel.
Being specific about the kind of ecotourism career you want can be a great strategy and is one of the best approaches to take in the industry. Broaden your environmental education so that you can pass on knowledge to travellers as the ultimate guide.
Follow your passions

---
Ecotourism was born out of an emotive desire to combine the thrills of travels with the mindfulness of sustainability. If you're attracted to a career in this area, lean into your passions and take the path that excites you the most.
This area of work gives you the chance to help the planet and the communities that live on it interact with tourists in a way that benefits us all. If you want to ensure that tourists can visit Amazonian tribes in a non-disruptive way, become a specialist tour operator!
If you want more Brits to get the train to the seaside and not fly around the world, get involved with staycation companies as a tour guide. Getting work experience and internships in a variety of areas can be key to your success.
As an ecotourism advocate, you can even work with tourism companies to find ways to cut their environmental impact on ecosystems across the natural world. The key is always to follow the route that excites you the most, as this will ensure that you'll give any role in this area 110% effort and will succeed.
Are you keen to start a career in ecotourism and become the ultimate eco tour guide? Ready to pivot into this exciting area of the travel industry? Explore our courses today and find out how you can get started.
---
Browse Courses!