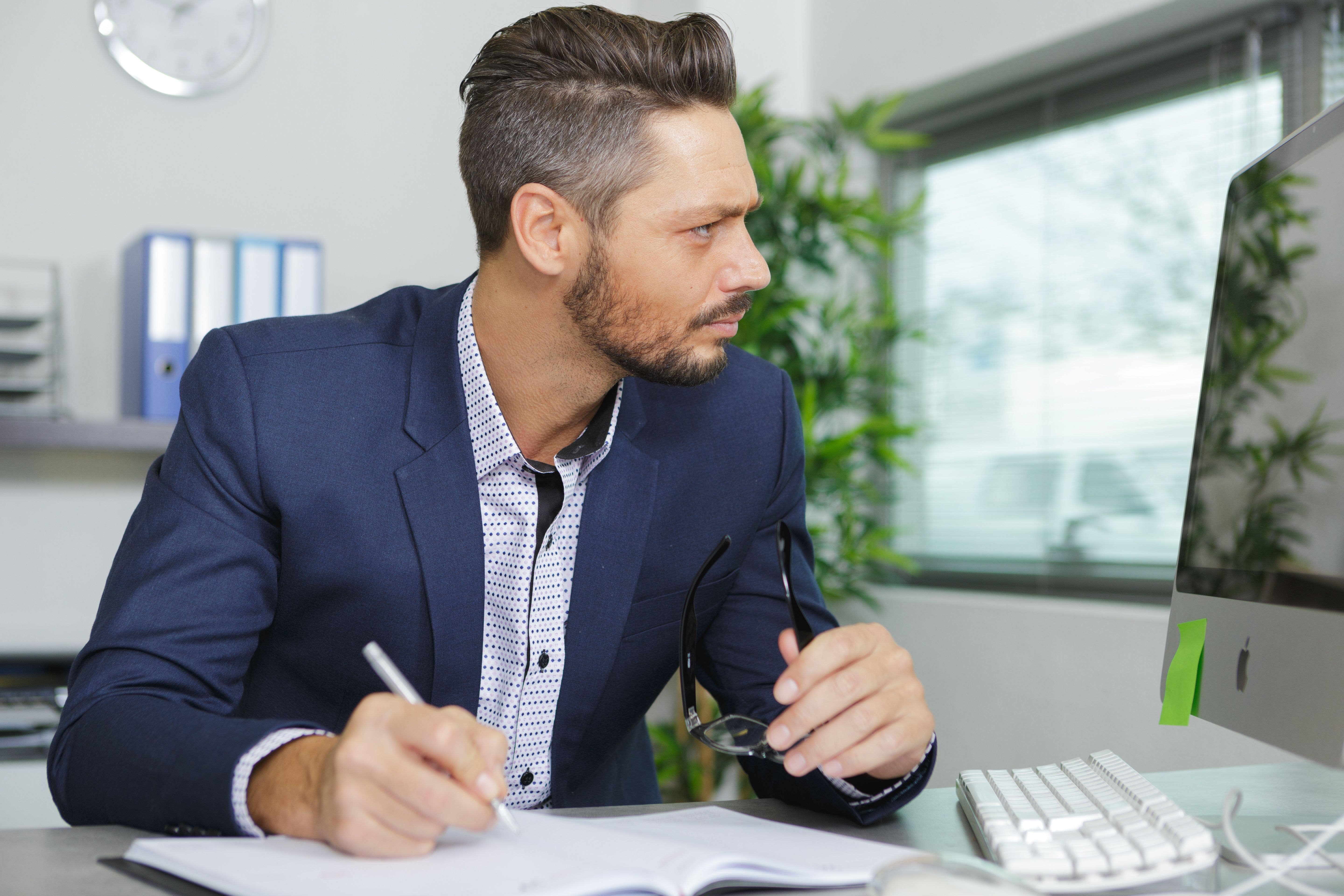 How to Become an Accountant
---
How to Become an Accountant
---
---
Accountancy is a diverse and interesting field of work, and there's much more to it than simply calculating tax.
Read on to discover why you should consider this intellectually stimulating career.
---
---
What does an accountant do?
An accounting career can vary hugely, ranging from completing tax returns to tracking company expenditure.
While strong numeracy skills are essential for an accountant, you'll also need an analytical mind, an ability to solve problems methodically and an eye for detail. Being a good communicator is equally important, as you'll have to gain your clients' trust, explain complex financial concepts and write up recommendations and analyses.
In a world that no longer promises a job for life, accountancy roles tend to be relatively secure. But this doesn't mean that they're not challenging. As financial deadlines approach, accountants often have to cope with working in a dynamic, pressured environment, knowing that the smallest error could harm their client's business.
---
---
What Does an Accounting Career Involve?
Tracking and examining company income and expenditure
Running payroll
Conducting audits
Invoicing and chasing payments
Budgeting and forecasting
Identifying and investigating financial risks or irregularities
Making recommendations to increase profit
Advising on tax planning
Calculating tax owed and filing tax returns
Setting up accounting systems
---
What are the different types of accountants?
There are two main areas of accounting, financial accounting and management accounting, and they can really be characterised by who they provide information to. 
---
Financial Accountants
They have to prepare mandatory financial statements that follow accounting principles. This means overseeing payroll, spending and taxes. However, their primary focus is providing information to those outside a company, for example, stockholders, creditors, and HMRC.
Management Accountants
These accountants focus more on providing financial information to those inside a company. They help managers to make financial decisions, including budgets. Because it's internal, the statements are much less formal, but they may require a higher level of communication skills.
---
What similar tasks do they do?
Both financial accountants and management accountants have to know how much a company is earning and spending. So they both track payroll and tax payouts, as well as expenses.
Each of the roles involves a high level of analysis when preparing reports. That said, many accountants in bigger businesses specialise early on in their careers, going into audit, tax, corporate, forensic accounting, and more.
If you're looking to keep your options open, working for a smaller company generally means you'll get to do a bit of everything, which is an excellent route into self-employment and freelance accountancy.
---
What Qualifications Are Needed to Become an Accountant?
There are many paths into accountancy, varying from degrees to AAT qualifications and apprenticeships. However, once you have one of those, you will need to follow it up with a professional qualification from an accounting body. 
---
What GCSE's do you need to become an accountant?
Each of the three main accounting bodies in the UK requires at least 3 GCSEs to become a professional accountant, including English and maths. However, none of them requires GCSEs for their fundamental courses.
---
What A-levels do you need to become an accountant?
You don't need any specific A-levels to become an accountant, though subjects like maths, further maths, economics and business can be advantageous when it comes to getting work placements.
---
Which degree do you need to become an accountant?
A straightforward degree in accounting can be a good option, or you could choose to top up your current degree with an accounting qualification, which could give you a broader scope of job roles once you graduate. For example, a degree that covers accounting with management could be a good option if you want to go further than standard accountancy work and step into a more senior management role.
Professional Accounting Bodies
---
---
Whether you opt for a degree, an AAT qualification or an apprenticeship, you need to follow it up with a professional qualification from an accounting body. This step takes 3-5 years and you'll be working while you study.
Professional bodies offering internationally recognised accounting qualifications include:
---
The Association of Chartered Certified Accountants (ACCA)

---
---
The ACCA has
---
members and 480,000 students
in 178 countries

---
---
Qualify in 3-4 years
Combine work and study or follow exams with three years work experience
Fundamentals – no entry requirements
Professionals-entry requires 3 GCSEs including English and maths plus two A Levels
The Institute of Chartered Accountants in England and Wales (ICAEW)

---
---
---
of FTSE 100 CEOs hold an ACA Chartered Accountancy qualification
---
Qualify in 3-5 years
Combine work and study or follow exams with 450 days of work experience
Level one Certificate – no entry requirements
Level two Professional-entry requires 3-5 GCSEs including English and Maths at 16, 2 A Levels at 18 or a 2:1 degree as a graduate
Level three Advanced-includes a final case study
The Chartered Institute of Management Accountants (CIMA)

---
---
The CIMA has
---
members and students in 176 countries
---
Qualify in 4 years
Combine work and study or follow exams with three years work experience
Certificate in business accounting-no entry requirements
Professional-entry requires the CIMA level one certificate or a masters in accounting
How Much Does an Accountant Earn?

Accountants salaries can range significantly depending on experience and position, although generally, it's regarded as a lucrative career path.
---
How much does a junior accountant earn?
On average, a trainee accountant earns about £24,000 per year, while the average starting salary for a qualified accountant is around £40,000 per year.
How much does an experienced accountant earn?
The salary of an experienced accountant depends on the position they hold within a company. For example, an experienced finance manager earns on average £50,000 per year, while Finance Directors earn up to £110,000 per year.
Senior Managers earn up to
---
Finance Directors earn up to
---
---
Does becoming an accountant need any work experience?
Technically, no, becoming an accountant does not require any work experience. However, experience can help you stand out to employers and proves that you already understand how to apply accounting principles in the real world. So, while it's fair to say you don't need work experience, it is advantageous if you have some.
What kind of work experience should you look for?
It might feel daunting trying to get work, but the ACCA (Association of Chartered Certified Accountants) recommends that students try to shadow qualified accountants to get a good idea of how they work day-to-day.
Elsewhere, completing an apprenticeship will give you on-the-job experience while you train. Alternatively, you could opt for applying to positions like Accounts Assistant or Junior Bookkeeper.
How to highlight your accounting work experience on a CV
As with any CV, it's essential to highlight any skills you have learnt on your educational journey, including your accounting work experience. If you have taken up a junior position or apprenticeship, list your main duties and demonstrate how the skills in those will be useful in a more advanced position.
If you've shadowed someone, make sure you point out the skills demonstrated to you on your CV, and ideally, how you then went on to improve your competency in those skills in your own time. Begin with your most recent experience and work backwards from there, with a separate section for any education.
---
---
What Skills Are Needed To Become An Accountant?
Numeracy and mathematics
Statistics and data analysis
Attention to detail
Ability to work under pressure
Digital skills
Knowledge of Excel
---
Career Prospects

However you become an experienced and qualified accountant, there's plenty of scope for career progression. As you gain experience, you'll be able to apply for roles such as senior accountant, finance manager and finance director. Fancy working abroad? You're in luck, as UK qualifications are accepted globally.
---