Published 12 Aug 2022
The Ultimate Revision Playlist: What The UK's University Students Are Listening To
---
Browse Courses!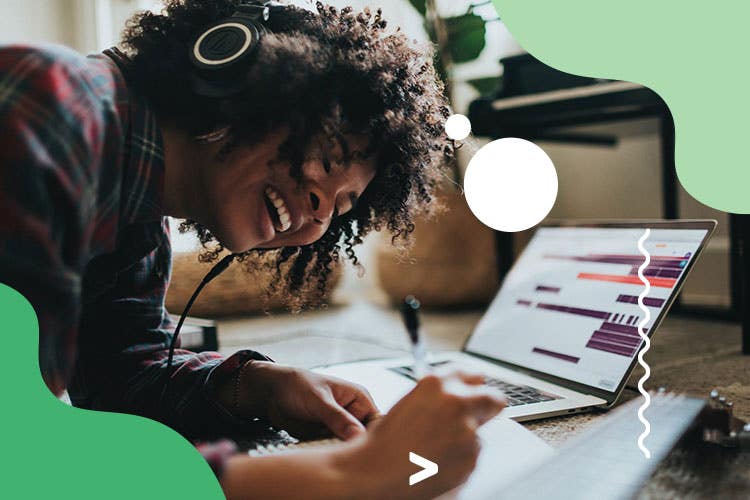 With a new university year almost upon us this coming September, the CoursesOnline team was curious about the most popular music choices amongst students. 
Using Spotify and the Chosic Spotify Playlist Analyzer, we examined 750 playlists and 10,769 songs that cover all aspects of university life as students up and down the country are being exposed to a massive quantity of music with which to broaden their musical horizons. Whether it's the first thing on a Monday morning or the late hours of a Saturday night – if you're a student, then there's bound to be something playing nearby.
However, chances are that you want to know a bit about what to expect before committing to jumping headfirst into an all-new playlist. The following results may therefore provide some inspiration, listing the top findings from playlists created by university students for everything from revision to pre-drinks and everything in between.
Which artists appeared in the most student playlists?

To see who was the most popular artist, we counted how many playlists featured each artist at least once. A standout favourite was Taylor Swift, with the country singer featuring in 93% of playlists. In second place was English acoustic sensation, Ed Sheeran, appearing on an impressive 81% of playlists. Coming in at third place was the US pop rock band OneRepublic, who showed up on 75% of playlists.
Other popular artists followed chart trends, with Billie Eilish, Kanye West, Imagine Dragons, and Dua Lipa showing up on more than 50% of playlists. Meanwhile, the Black Eyed Peas, The Weeknd, and Ariana Grande placed just below them, showing up on slightly less than half of the playlists we looked at.
---
Which albums appeared in the most student playlists?
Ed Sheeran was one of the most popular artists on the playlists, and his album ÷ certainly doesn't divide opinion, with 39% of playlists featuring at least one track from the album. In second place was Panic! At The Disco's 2018 album Pray for the Weekend, which appeared on 29% of playlists, and in third place was Dua Lipa's second album Future Nostalgia, which showed up on 27% of student playlists. 
The albums Fine Line, After Hours, and Native, by Harry Styles, The Weeknd, and OneRepublic all appeared on roughly a quarter of playlists. When We All Fall Asleep, Where Do We Go, Folklore, Cuz I Love You (Deluxe), and Happier Than Ever by Billie Eilish, Taylor Swift, Lizzo, and Billie Eilish (again!) were seen on roughly 20% of student playlists.
---
Which tracks appeared in the most student playlists?
Ed Sheeran should be pleased to hear that he's got another podium position, with his song Happier appearing on 16% of student playlists. Panic! At The Disco are just behind Ed, with their son High Hopes showing up on 15% of playlists, whilst Unforgettable by French Montana and Swae Lee was the third most popular song, appearing on 13% of student playlists. 
Scottish singer-songwriter Lewis Capaldi proved a popular pick, along with The Weeknd, with his song Blinding Lights and 5 Seconds of Summer with their song Youngblood, who were all featured on 12% of playlists. 
Finally, Billie Eilish, Avicii, Glass Animals, and The Black Eyed Peas got a spot on roughly 10% of student playlists with the songs Bad Guy, Wake Me Up, Heat Waves, and I Gotta Feeling.
---
Which was the most popular genre for tracks in student playlists?
The most popular genre is, somewhat unsurprisingly, Pop, which was the genre of 56.57% of the tracks on student playlists, with Dance Pop, Electropop, Indie Pop, and other Pop being the most popular sub-genres in that order.
Hip-Hop took second place, with a quarter of tracks on student playlists being from this genre. Rap proved to be the most popular sub-genre, making up over half of the tracks, with Trap, Gangster Rap, and other sub-genres being the next most popular. 
Rock proved a popular choice coming in just behind Hip Hop, with 24.69% of playlists featuring a Rock song. Modern Rock was the most popular sub-genre, with 42% of Rock featured being from that sub-genre, whilst Punk, Metal, and other Rock genres drew in about 20% each from students Rock fans. 
In fourth place was Dance music, appearing on 21.06% of student playlists. EDM and House both took in close to 45% of listeners, with Drum & Bass tying with the remaining dance genres at about 4%.
Electronic, R&B, and Easy Listening were the best of the rest appearing on 19.83%, 12.55%, and 8.79% of student playlists, respectively. Folk proved to be one of the least popular genres, showing up on just 7.05% of playlists. Classical fared worse, with around 3.71% of playlists featuring any music from this genre, and in last place was World/Traditional, showing up just 3.52% of UK student's personal playlists.
Which were the most popular film soundtracks for university students?

The Harry Potter films proved the most popular, with music from the movies' soundtracks appearing on 38.66% of playlists. In at a close second was Star Wars, with music from the film series popping up on 37.33% of playlists. In third place was Lord of the Rings, with the soundtracks from this epic film series showing up on 36% of student playlists. 
Soundtracks to French film Amélie and animated flick How To Train Your Dragon both appeared on 16% of playlists, whilst fantasy epic The Chronicles of Narnia's soundtrack appeared on 14.66% of playlists. 
Unsurprisingly, the highly-watched TV show Game of Thrones was a popular choice, with its epic soundtrack popping up on 10.66% of playlists. In the bottom, three were the soundtracks of Finding Nemo, The Theory of Everything, and Gladiator, with the first two appearing on 9.33% of playlists and the latter appearing on 8% of playlists.
---
Looking for the ultimate university song?

So, with all of that information in mind, what does the ultimate student playlist song sound like? Well, after collating all of the data, we found that the average song length was 4 minutes and 8 seconds, with an average tempo of 121 bpm. So if you're an aspiring musician looking to land on students' playlists, take note!
How to create the ultimate playlist – according to science

Step 1 – Pick your genre
Step 2 – Choose your top artists
Step 3 – Decide your track listing
Want to find the perfect course that matches with your unique music taste? See what we have on offer today.
---
Browse Courses!