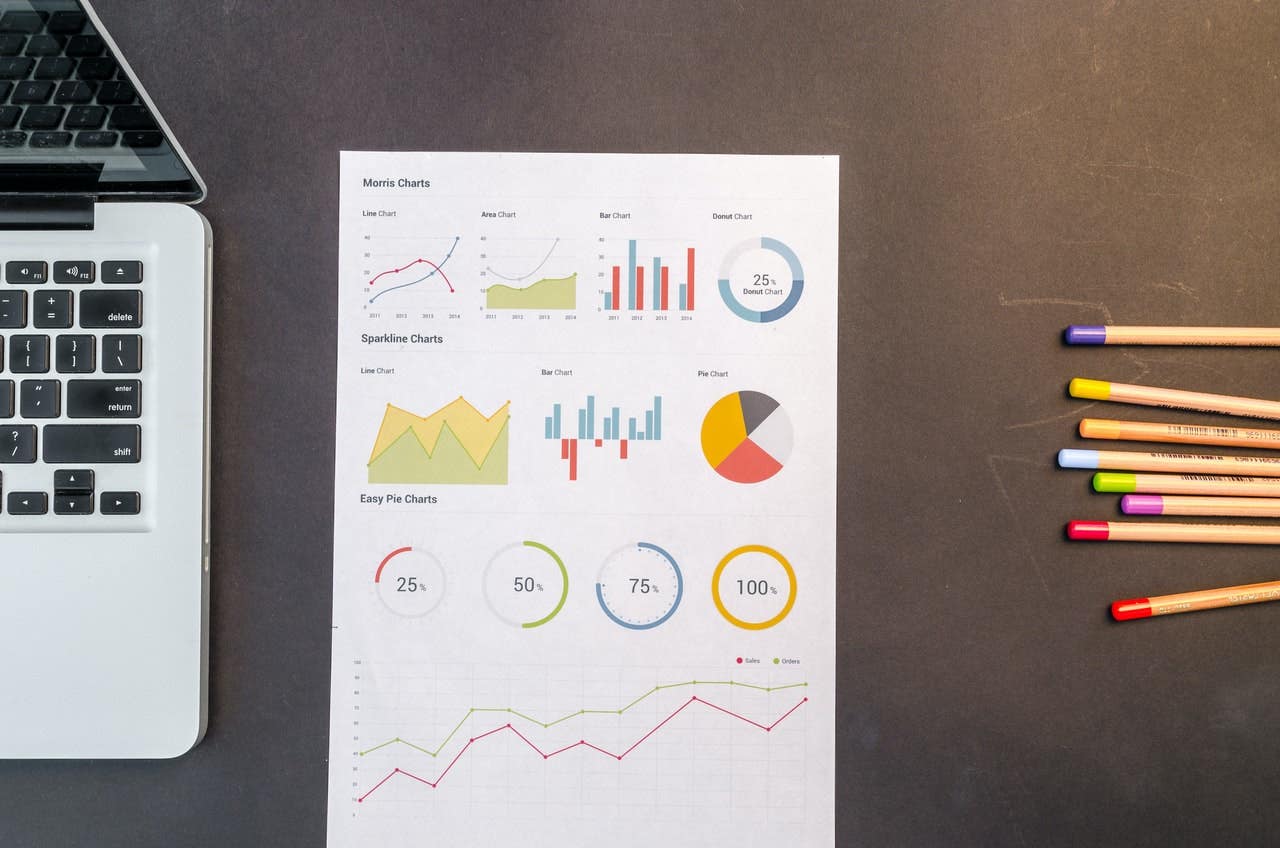 How to Become a Data Visualisation Specialist
---
---
How to Become a Data Visualisation Specialist

---
---
If you enjoy transforming data into graphs, charts, and diagrams, then a career in data visualisation could be for you! Specialising in translating complex data into a variety of useful visual formats, data visualisation specialists are key to making large amounts of data universally accessible.
Data visualisation experts are in high demand due to how useful their skills are, whether it's creating a bar chart to highlight key statistics or a line graph to demonstrate trends and make predictions. Find out more about this interesting career and how to kick start your data visualisation career below.
What Does a Data Visualisation Specialist Do?

Data visualisation specialists are provided with raw data which needs to be transferred into a visual format. Using their visualisation software, tools, and expertise, they will then translate the data into appropriate visual formats depending on the uses of the data. 
There are a variety of visual formats that visualisation specialists work with, including several types of charts, graphs, infographics, pictorial diagrams, and data maps. Data visualisation experts will need to know how to translate the given data into a range of formats, which formats are best for the data and what needs to be gained from the visual data as well as how to interpret visual data. 
Often, data visualisation experts work as data analysts, and data visualisation is a key part of their role. Some of the key duties listed for a data visualisation specialist job description include:
---
Making large amounts of data more accessible
Combining data sets from different courses (data federation)
Using data visualisation tools such as Google Charts, Tableau, and D3.Js
Using graphic design skills to create visually pleasing charts, graphs, and infographics
Integrating related data and identifying relevant trends
Formatting visualised data to audience and client requirements
How Much Does a Data Visualisation Specialist Earn?

The salary of a data visualisation expert depends highly on the training and experience they have. The average salary is £22,000 per year however, this can increase to £60,000 for experienced data visualisation analysts, according to the National Careers Service. 
Upper Salary for a Data Visualisation Specialist
What Qualifications are Needed to Become a Data Visualisation Specialist?

For the majority of data visualisation jobs, you will need an undergraduate degree in a related field or a subject where analytics is a key component. 
Many data visualisation roles are advertised as (or are a component of) data analyst or data scientist jobs. A bachelor's degree in data analysis, computer science, data science, marketing and analysis, statistics, or maths is often desired. To jump straight into a data visualisation role, a postgraduate degree or certificate in data visualisation will greatly increase your job prospects. 
Although most jobs require a Bachelor's or Master's degree in a related subject, there are some opportunities for those without previous qualifications in the field. There are sometimes data analyst or visual data analyst apprenticeships available for those without a degree relevant to the subject area. 
There are also online courses and certifications, such as Big Data Courses or Digital Skills Courses which can add to your employability and build on your data analysis and data visualisation skills. 
These courses are available at all levels, from beginners to experts, including specific courses which develop key IT skills. Learn all about Microsoft Excel, develop your expertise in Python or Javascript, try your hand at software development, or you can even explore the world of artificial intelligence!
What Skills are Needed to Become a Data Visualisation Specialist?

Data visualisation experts have several skills which make them great at what they do, including a range of soft and hard skills. Some of the key abilities that a data visualisation specialist needs however are:
---
Excellent analytical skills

The ability to see the 'bigger picture' and handle lots of raw data

Visual graphic design skills
Be able to adapt data visualisation for different audiences and purposes

Pay close attention to detail and recognise errors
Excellent maths skills

Critical thinking

An in-depth knowledge of visualisation software and types of data visualization tools

The ability to create easy to understand visual data presentations
Does a Data Visualisation Specialist Need any Work Experience?

The amount of work experience required will depend on the data visualisation job you are applying for. For data visualisation analyst roles, many employers want candidates to have at least 2 years' work experience either in data analysis or a similar role.
If you do not have relevant experience, then finding an apprenticeship, internship, or voluntary role in a similar area such as IT and marketing can help boost your employment opportunities. If you have experience or have taken one of the Marketing courses available, then gaining real-world work experience will be significantly easier.
If you cannot find voluntary or work experience opportunities, then you can always explore entry-level data entry-level data visualisation roles or junior data analyst vacancies. 
For these positions, you are less likely to need years of experience directly related to data visualisation. However, you will likely need experience with data analyst tools, which you can gain either during your university degree or through other courses such as Google Analytics courses. 
Having some knowledge of programming languages such as SQL and knowing about machine learning will also be beneficial, as well as general cyber security awareness. If you have other types of work experience, such as customer service, then this can also help develop more general key skills such as communication skills.
Career Prospects for a Data Visualisation Specialist

Data visualisation is such an integral part of business, playing a key role in all industries, from the finance sector to healthcare. 
Because of this, there are a huge number of career prospects for a data visualisation specialist, including jobs that are solely based on data visualisation and roles which include it as a primary element. Some of the main career opportunities include becoming a data analyst, business systems analyst, data visualisation engineer, data scientist, and data engineer. 
There is also plenty of opportunity for career progression as a data visualisation expert, as data visualisation skills are so highly desired. By undertaking additional training, for example, with online Digital Marketing courses, you can also steer your career into a more business-focused, consumer-focussed direction, using your data visualisation skills to create infographics and other universally recognised visualised data formats. There is also ample opportunity to move into management or become self-employed and work on projects for multiple companies. 
Data visualisation is a fantastic career for those who have great analytical skills, an eye for design and are excellent at handling large amounts of data. If you have a degree in maths, marketing, computer science, or analytics, then you could have what it takes for this highly skilled and rewarding career. 
You don't need to have it all coerced yet, however, and undertaking additional qualifications such as SEO courses can greatly increase your skills and knowledge in several areas. You can begin your career in data visualisation through additional qualifications and gaining experience working with data analytics and visualisation tools.
Keen to find out how you can get started on your data visualisation journey today? Explore the courses we offer and see how we can help you to advance your career.
---
Browse Big Data Courses Now!