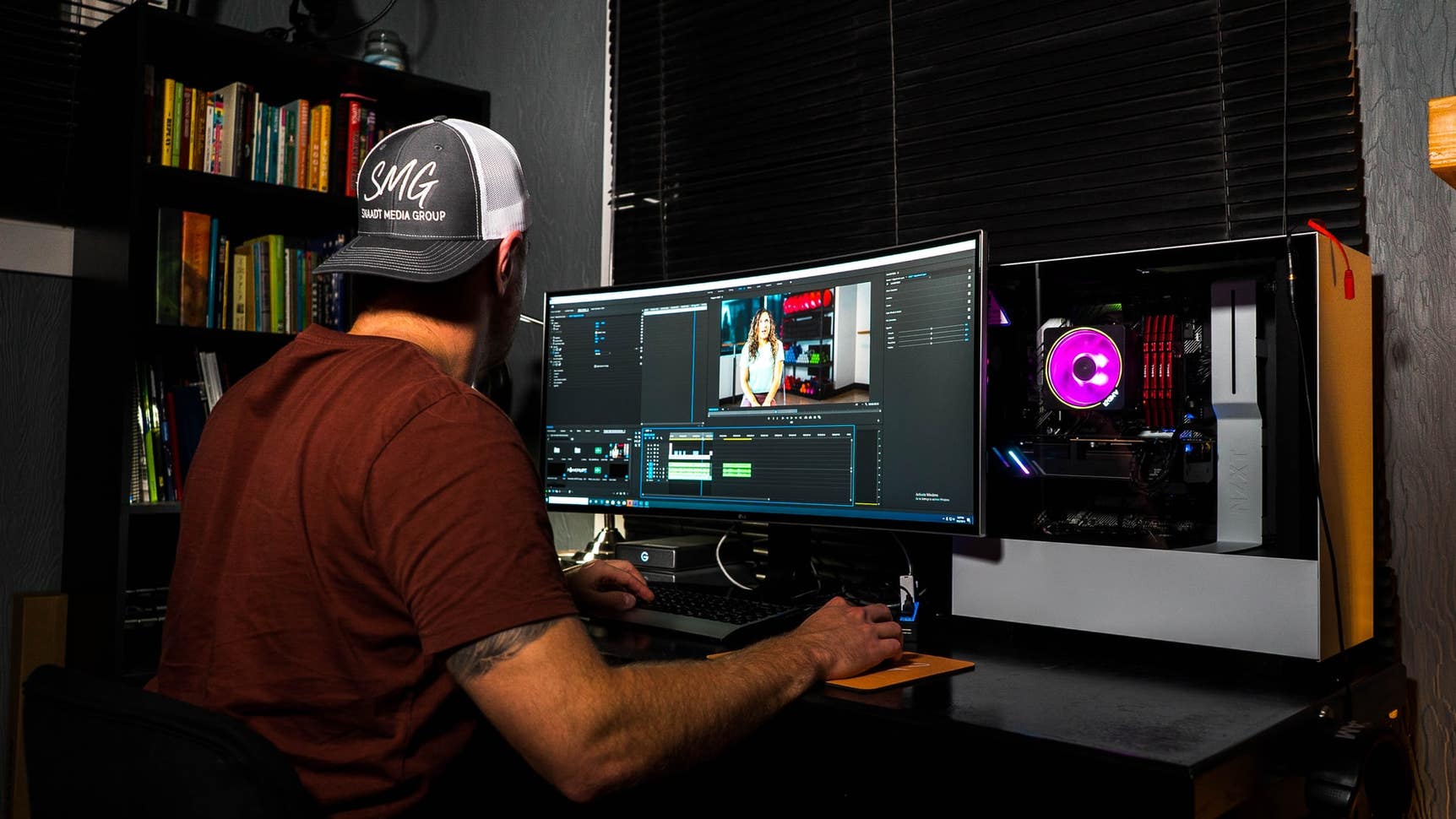 How To Become A Video Editor
---
---
How to Become a Video Editor
---
---
Video editing is a dream career for many creative people who want to use digital media to create a unique story. From hit TV shows to marvellous motion pictures, video editors are essential in the modern age to create a visual story on big and small screens. Video editors work in post-production to cut, trim, splice, merge and sync images and audio files using editing software, creating a video their client wants. 
If you are interested in using your creativity to become a video editor, read on to see how you could become part of this incredible industry. This will include designing the video footage to have a certain look, feel, and emotional story to capture the audience. This can be humour, sadness, or horror, depending on the video.
What Does A Video Editor Do?

Video editors are responsible for editing images and sound together to create videos for TV, movies, online videos, documentaries, and much more. A video editor's job is to tell the viewer a story, whether it be an emotional scene in a blockbuster movie, a funny sketch on YouTube, or a professional TV ad for toothpaste. 
Video editors use computer software such as Final Cut Pro or Adobe Premiere Pro to cut and edit raw footage, add audio and sound effects, adjust the images and sound and create a piece that fulfils the client's needs. The day-to-day tasks of a video editor will vary depending on the project and client or employer. However, some of the key responsibilities of a video editor include:
---
Meeting with clients and discussing their video editing needs
Make creative choices to best portray what the client wants
Managing projects and planning how to achieve the desired results
Collaborating on projects with other production professionals (e.g., audio engineers)
Using editing software and editing techniques to create video content
Create a 'rough cut'
Take on feedback and make amendments
Use chosen platforms to upload videos online or via other formats e.g., DVDs.
How Much Does A Video Editor Earn?

Video editors make an average of £25,000 per year, with entry-level editors starting at around £18k and experienced editors making up to £45k, according to the National Careers Service. 
Upper Salary for a Video Editor
What Qualifications Are Needed To Become A Video Editor?

The majority of video editor jobs require a bachelor's degree in a related field such as film, media, broadcasting, or video production. Creative degrees such as art and graphic design are also useful. The entry requirements for these courses are usually two or three A-Levels, ideally in a related subject such as media studies. However, most A-Levels will be accepted. 
Suppose you don't have a degree, or you don't have one in a relevant subject. In that case, you may still be able to become a professional video editor (although it may be challenging for large studios and production companies). 
In this case, you will need to learn how to use video editing software which can be done through video editing online courses, and demonstrate your video editing skills. 
Create YouTube videos and short movies and use every opportunity you can to create a range of videos. This you will then send to clients and employers to demonstrate your skills. 
There are also college certifications available such as the Creative Media Production diploma, as well as virtual courses, which provide training in film editing and editing footage for beginners to advanced. This will build your technical skills and knowledge of the post-production process.
What Skills Are Needed To Become A Video Editor?

If you are a creatively minded person who enjoys working with computers, then a career in video editing could be for you. Here are some of the main skills and knowledge you will need to be a successful video editor.
---
Ability to efficiently use video editing software

Creativity and visualisation skills

A keen eye for cinematography

Knowledge of video production

Communication skills
Team working skills

Ability to work on a design brief

Ability to adapt and take on board feedback

Good time management and organisational skills
---
If you don't have all of these skills yet, then studying one of the courses mentioned in the 'qualifications' section above can help you develop these. As long as you have a passion for learning, you can hone your skills and develop your very own showreel to demonstrate your talents. 
Does Becoming A Video Editor Need Any Work Experience?

Before embarking on your career as a video editor, you will need some experience working with video editing software. As mentioned previously, this could be through an online course, college diploma, or a degree course. However, if you have evidence of your skills in the form of a showreel, then this will be the key to getting your foot in the door of a video editing career. 
Learning through a course or, better yet, a degree will ensure that you know the main techniques used in video editing however and that you understand how to create a variety of videos, so even if you are teaching yourself, having some qualification behind you is preferable. 
Another way to gain experience in video editing is by exploring apprenticeships, internships, and on-the-job training opportunities. The advantage of these avenues is that you can gain real-world experience in film production. However, apprenticeships and training opportunities are often hard to come by. 
Furthermore, many studios will still want a showreel or some evidence of a passion for video editing, whether that is a short course you have undertaken or relevant A-Levels in fine art, graphic design, IT, or photography. 
Showing that you are dedicated to this career path by volunteering for media opportunities or gaining work experience in a media, filmmaking, broadcasting, or editing environment will also greatly increase your employment opportunities.
Career Prospects For A Video Editor

Established video editors are sought after by companies and clients in all sectors, from social media influencers to marketing companies. Therefore as you begin to build your experience and skills, you can work as a freelance video editor and negotiate your own fees or have an agent negotiate fees for you. You can also find work within the journalism industry, especially if you complete a supplementary Journalism Diploma.
You can also then gain more freedom over the types of video editing jobs you take on, whether that's as a film editor, editor of reality tv, or editor of music videos. You can also progress through a company or studio, beginning as a runner or junior editor and work your way up to senior editor, where you will manage projects and have more creative control over the final product.