Published 29 Jun 2022
Keep Up To Date – The Benefits Of Doing Refresher Hairdressing Courses
---
Browse Courses!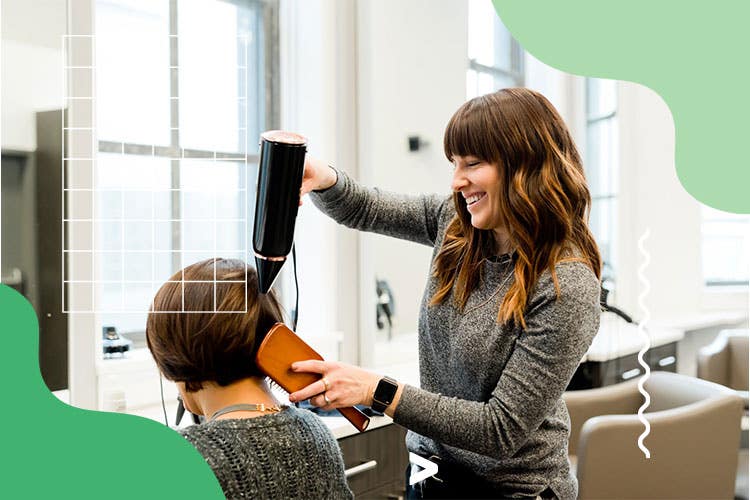 Started out in a career in hairdressing but want to take it to the next level? Want to grow your business or stand out in your workplace? We've got the answers for you.
If you're keen to advance your career prospects, widen your customer base and establish yourself as a cutting-edge hair stylist, read on and learn why taking refresher courses can help you achieve these goals.
You get a chance to learn about new styles

Taking on refresher hairdressing courses is an excellent idea for those who already know how to become a hairdresser but want to keep up to date with the latest styles.  
New styles of balayage, classic hairstyles making a comeback, and with the world trying out new post-pandemic cuts, now is a better time than ever to learn about new looks and techniques. 
Refresher courses can give you insight into new and exciting trends that you can give to your customers straight away. This is especially useful for those who may have learned their trade a while ago to sharpen their skills and learn new methods. Better still, being able to take hairdressing courses online means that you can upskill in the areas you need without having to make commitments to going into a learning centre or travelling far away from your salon. 
You can attract a wider range of customers

Knowing which styles are best suited to your clientele can have a huge impact on customer loyalty and satisfaction. According to research from Boulevard, nearly 20% of people surveyed said that a salon's brand and reputation have the biggest impact on choosing where to go. With this in mind, having the best and latest hairdressing knowledge could help boost your customer retention significantly.
Hairdressing and beauty courses can help you get up to date with the latest styles, meaning that you'll always be able to help your customers get the cut or look they want. You can react to growing trends and keep customer satisfaction high. Better still, as word spreads, you could even see a boost in the number of customers coming in or clients requesting you as a stylist in a salon.
You can establish an advantage over competition

Standing out from the crowd is a great way to draw in new business, but it can be hard to do in a competitive market. So, what's the best way to go about getting a step ahead of the competition?
By learning new skills in hairdressing, you can market your specialist skills through social media pages or other marketing channels. Reaching customers in this way is becoming increasingly popular, with research from Boulevard finding that 60% of hair salon patrons follow salons or stylists on social media. 
Flaunting your newly found (and newly refreshed) talents online is an excellent way to generate new business. If you're keen to level up your online presence, taking a social media management course can give you the insight you need to build a strong virtual following.
Gives you the chance to take a break

Hairdressing can be a non-stop job, with people needing new styles and cuts all year round. Working non-stop could be having a negative impact on your wellbeing. If that's the case, you're not alone. In fact, research from AIG found that 1 in 6 workers have taken a career break due to stress or mental health.
If you want to take a step away to travel, spend time with family or pursue other projects but you're worried that you'll be out of touch, the best solution is education. Taking refresher courses is a great way to re-learn some of the skills you might be rusty on, as well as learn new ones. 
Combining this with some research on new styles and trends will ensure that you can take a break, safe in the knowledge that you'll come back better than ever. Reading up on hair and beauty guides that give advice on how to manage and advance your career can help to smooth the transition back into the workplace after a break as well.
Gives you more confidence

A study from HR News found that 85% of UK workers had "imposter syndrome" at some point in their careers, meaning that they felt they were unqualified or undeserving of a role that they were in. 
If you're worried your skills might not be up to scratch, taking refresher courses are great for confidence building. Training sessions and tutorials can be a great way to learn new hair colouring techniques, refresh your fundamental knowledge, or get a greater insight into the hairdressing industry as a whole.
If you are worried about trying a new technique, or want to assure yourself and your customers that you're really sure what you're doing, hair cutting courses, colouring courses, or hair extension courses can meet all of your training needs and help you improve your customer's experience. You might even get the confidence to apply to vacancies at top salons you might've felt unqualified to aim for before.
Allows you to branch out into other areas

Getting refresher hairdressing courses can be a great entry point into other areas of the hairdressing and beauty industry. If you've thought about offering additional beauty services, a career as a beauty therapist could be for you.
Exploring beauty diploma courses can be an excellent way to boost your knowledge after taking a hairdressing refresher course. If you feel like you've reached a new level after learning all there is to learn about hairdressing, this could be a natural next step. 
Take courses in a way that works for you

By choosing to study online, you'll be able to keep up with your work commitments without having to travel long distances or take time out of your working day to study. Learners who take on online courses can offer an immersive learning experience that can equip you with the skills you need in a way that suits you. 
Online learning is an excellent way to learn new skills, refresh your knowledge, and advance your career in a way that has minimal disruption. If you're keen to take the next step in your hairdressing career, explore courses and see how you could begin your online learning journey today.
Ready to learn new styles, boost your hairdressing knowledge and branch out into new and exciting areas? Search through training courses and find the best one for you.
---
Browse Courses!