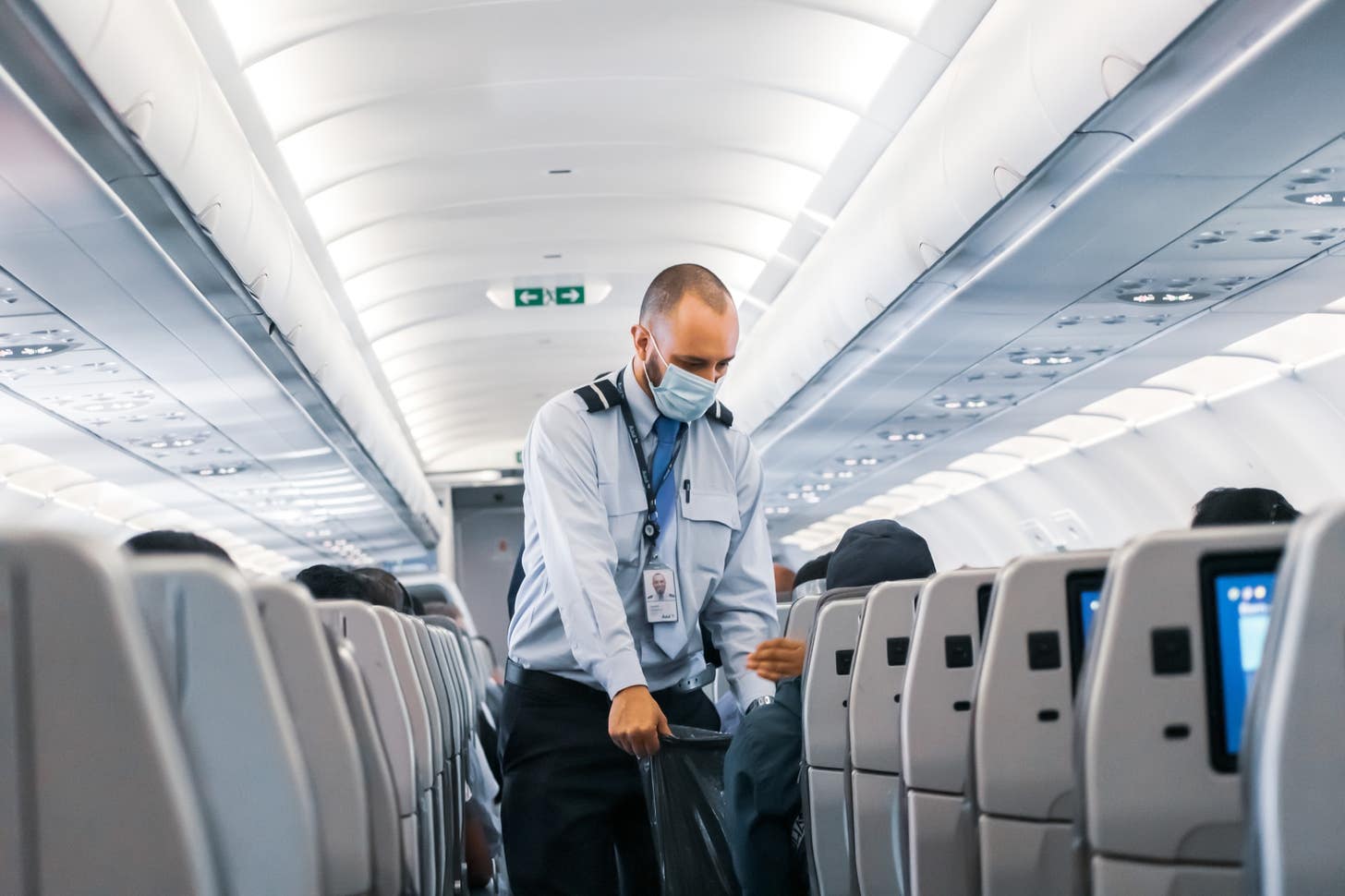 How to Become a Cabin Crew Member
---
---
How to Become a Cabin Crew Member
---
---
Being a member of Cabin Crew is a very popular occupation, not least because you get to travel the world. As a member of the cabin crew you will be providing excellent customer service to passengers and supporting the pilot/co-pilot in keeping passengers safe, comfortable and catered for. Find out more about this sought after job role and discover if it's right for you.
What does a cabin crew member do?
Cabin Crew consists of flight attendants who help, support and provide excellent service to passengers during their flights. From providing food and drink to ensuring passengers are aware of the safety procedures, cabin crew are essential to the travel industry. The main duties of cabin crew include:
---
Attend a pre-flight briefing which covers flight details and working positions
Check emergency equipment and stock prior to the flight
Assist passengers on and off of the aircraft and direct them to their seats
Assist in securing luggage and making sure it is safely stored
Carry out the pre flight emergency procedure demonstration
Check all seat belts and galleys are secure before take off
Check on passengers throughout the journey to ensure their needs are met
Provide inflight refreshments and meals
Consult with the pilot/co-pilot when necessary
Give first aid when necessary
Make announcements on behalf of the pilot/co-pilot
Complete paperwork and flight reports
---
These are the general duties of cabin crew however these duties can vary slightly depending on the airline.
How much does a cabin crew member earn?

The salary of a Cabin Crew member in the UK begins at around £15,000. However this can increase to £30,000 with experience. These rates depend on the airline and experience, with premium airlines often paying higher wages. 
Upper Salary for Cabin Crew
What qualifications are needed to become cabin crew?
To become cabin crew, most airlines require you to have a good secondary level education with GCSEs in English and Maths at grade C. Although it is not required to have a higher education qualification, if you do want to undertake a degree or diploma then some subject areas can be very useful when applying for a cabin crew role.
Subjects such as hospitality, tourism, foreign languages or communications can help you get ahead of the competition during the application process. It will also help you during your career as a cabin crew member, as you will have a background of useful knowledge and experience. Being able to speak a foreign language can be a big plus, as you'll be able to communicate with passengers, and will be more likely to land roles with foreign airlines that mostly focus on domestic flights and have customers who may not speak English.
There are a range of cabin crew courses you can take as well as courses in related areas. A Cabin Crew Diploma from a certified provider can be an excellent way to step into the aviation industry. Courses like this are recognised from some of the biggest commercial airlines in the world, including Qatar Airways, EasyJet and Flybe.
What is the recruitment process to become cabin crew?

There are different routes to becoming cabin crew, however the most popular way is applying directly or applying for an apprenticeship. When you apply directly it is the same as applying for other job roles, and emphasising your passion for the job and any relevant experience or qualifications is key. If you do an apprenticeship, this will usually take 12 months  and will include practical cabin crew training and theoretical training at a college.
What skills are needed to become a cabin crew member?

Some of the key skills you need to become a member of cabin crew are:
---
Excellent communication skills

A friendly and polite disposition

Fantastic customer service skills

The ability to remain calm in a stressful situation

Good level of health and fitness
---
Organisational skills

Team working skills

Ability to be professional and tactful

Compassion and cooperation skills
Is work experience needed to become cabin crew?
Although you might not necessarily need work experience to be cabin crew, getting some relevant experience will make you stand out in your application. Customer service experience will be very useful, and some airlines even offer work experience for aspiring cabin crew to see if the role is right for them. Other work experience can be very helpful too, such as healthcare experience, emergency services experience or catering and hospitality.
Are there any restrictions to becoming a cabin crew member?
If you are applying for a cabin crew job, there are some restrictions to bear in mind:
You must be over 18 years of age
You need to pass a medical check
You need to pass enhanced background checks
You need to have a good level of fitness
---
You will also need to have a valid passport and good written and a good level of spoken English. Although you may not be expected to speak English if you choose to work for a local airline in an non-English speaking country, English is the lingua franca of most travellers, so this will come in handy when working for almost any airline.
Knowledge of other popular languages such as Mandarin or Cantonese Chinese, Arabic, Hindi or European languages such as Italian, French or Spanish would also make you an appealing prospect to employers.
Some airlines also ask that you can swim 25 metres and there may be height and weight restrictions. You will likely also be required to cover any visible tattoos and take out or cover visible piercings.
Career prospects for a cabin crew member
There are many career prospects for cabin crew, and many opportunities for promotion. Promotion is based on experience and performance, and cabin crew can be promoted to a purser or chief purser, also known as a chief flight attendant. As a chief flight attendant you will have the same responsibilities as cabin crew but also some managerial responsibilities. You will likely need two to five years experience to become a purser.
After being a qualified purser, you can then progress to a cabin supervisor or senior cabin crew. This role requires you to be in charge of the entire air cabin crew team on board, and manage the training and supervision of new staff members.
There is also the opportunity to become a Very Important Person (VIP) cabin crew who care for prestigious private clients usually on a private plan. This can include royalty and government officials. You can also move into other cabin crew positions such as ground crew and recruitment, sales or HR.
Cabin crew can be a fantastic career for those who love working with others, customer service and travelling. It requires hard work and long working hours, especially on long haul flights when you might have to be away from family for an extended period of time.
The progression opportunities can be highly rewarding, and the career is certain to never get dull as you will be on the go all the time as you help passengers, provide care and security and support coworkers. Explore this incredible career path today and see where a cabin crew career could take you.
---
Browse Tourism Courses Now!