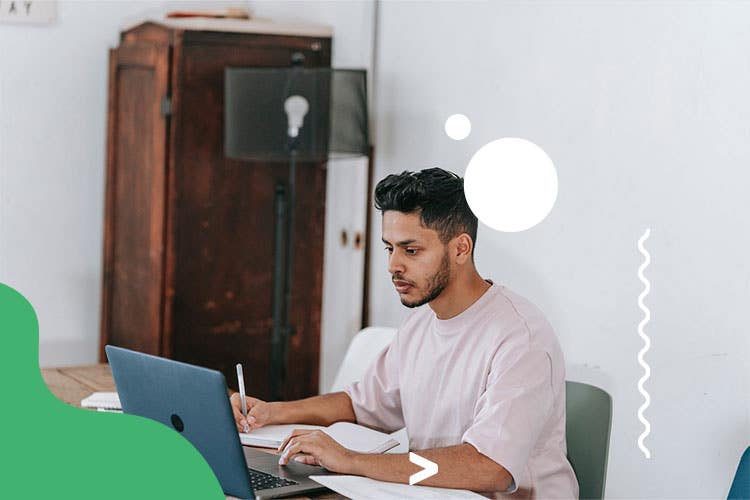 GCSEs are an important part of education, but it can be difficult to get all the grades necessary. Even bright students may struggle with particular subjects. 
You needn't feel alone when it comes to not having certain GCSE grades, as around 100,000 people per year do not pass their English language and Maths GCSEs. Retaking your English GCSE as an adult is a fantastic option to help open up job opportunities, improve your writing and access further education options.
Why are English GCSEs important?
There are so many benefits to having an English GCSE, which is why English is classified as a compulsory subject in the UK. Some of the most important reasons to be qualified in GCSE English include:
Standard work requirements

Most employers require GCSE Maths and English as standard for all employees. English, in particular, is relevant in all work environments, as it enables you to read, write and communicate effectively.

Access to further and higher education

If you want to study for A Levels, a degree course or another qualification such as a diploma, you will very often need the core subjects English and Maths at GCSE level.

Knowledge of the English language and grammar

In the UK and also around the world, knowing how to write using the correct spelling and grammar is essential to a lot of communication and can be important when conveying information in a written form to others.

Limitations on learning

Education is an incredible tool that is often undervalued when we are school students ourselves. However, later in life, we often find that we have a newfound desire to learn and to gain more insight into the world around us. English Literature and English Language can be fantastic tools to help develop our knowledge, understanding and insight into the world around us.

Key Critical Thinking Skills

English GCSE doesn't just cover grammar and language. It also relates to other aspects of life. By analysing texts and creating our own essays and stories, we can develop key critical thinking skills and creativity.
Is it common to fail English GCSE?

It is quite common for students in the UK to fail their English GCSE. In fact, one-third of school leavers failed to pass their GCSE English in 2022. There are several reasons that students do not pass their GCSE English Language or Literature, from problems in their personal lives to exam settings being difficult for them to thrive in, and there is no reason for it to stop people from achieving their dreams.
Is it too late to resit?

There is no age limit for when one can resit their GCSEs, and retaking GCSEs for adults is very common. You can resit them at any age, and people of all ages resit their GCSEs every year. You can resit a range of GCSE subjects, whether it is your first time studying for GCSEs, you studied several years ago, or these are relatively recent resit GCSEs.
How do I resit my English GCSE?

Adult learners can resit English GCSE through online learning courses which provide GCSE certification upon completion. There are many online courses which are accredited by the GCSE exam boards, such as AQA, and provide the course materials for you to learn as well as the assignments and exams which you will need to pass to obtain your qualification. 
Online GCSE courses are very useful as you can study flexibly from the comfort of your own home, part-time or full-time. Your course materials are all available online, and when it comes to final exams, the course provider will ensure that you can take your exams either securely online or at your local private exam centre.
Will I need to prepare?

The advantage of studying adult GCSE courses through online distance learning is that you will develop an in-depth understanding of the concepts and information needed to pass the exam. 
Learners have access to course materials as well as tutor support to help you truly get to grips with the concepts being taught. It will also be very beneficial to revise before you take the GCSE English exam and go through all of the course materials thoroughly to ensure that you are confident in the subject.
What are some of the benefits of passing?

There are several benefits to passing GCSE English, from employment opportunities to personal gain. Below are some of the key benefits and ways in which retaking GCSEs can truly change your life for the better. 
Access to higher education
Having an English GCSE qualification at grade c (grade 4) or above is usually one of the entry requirements for higher education. Although some courses might take other certifications such as functional skills, having GCSE English will open up many more higher education opportunities, and you can go on to study A Levels and then progress further with a diploma, a bachelor's degree and even a master's degree. A-level courses and degree courses are also available via online learning providers.
Improved English skills

Having excellent English skills is incredibly useful in one's personal and professional life. From conveying meaning through a professional email to communicating effectively in a friendly text message, knowing the rules as well as quirks of the English language can help your life in a variety of ways. 
More work opportunities

Having English GCSE opens up a whole range of job opportunities, as most employers are keen to hire candidates who have this qualification. For many careers, higher education is also very desirable and often necessary, and having an English GCSE can help you access the higher education you need to secure these job roles. 
Whether you are thinking of doing an English GCSE retake for professional, educational or personal reasons, there are certainly several advantages to gaining English GCSE. Accessing GCSEs for adults is now easier than ever, with online courses available to make learning super flexible and help you gain an accredited qualification no matter where you are located. Find out more about resitting your GCSE English today and expand your horizons with this key qualification.
Are you keen to retake your English GCSE and unlock new opportunities? Explore courses today and get started on your education journey.
---
Browse Courses!