Published 19 Jan 2022
Which Areas Should Companies Upskill Employees in to Stay Ahead in 2022?
---
Browse Courses!
---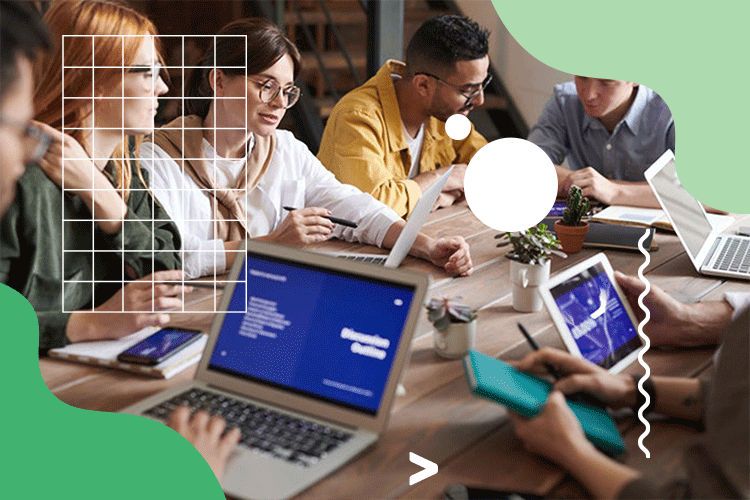 In 2022, managers and CEOs will be thinking hard about the skills and knowledge they want employees to have going forward into a new year.
If employers have learned anything in the 2020s so far, it's that things can change very quickly. With that in mind, here are some of the best areas to upskill employees in to ensure that they're ready for whatever the year has for them.
Digital skills

In the modern world of work, basic digital skills aren't enough to keep up and progress. Whether it's learning how to work from home or taking on additional digital responsibilities, many workers are being faced with the reality that their overall level of digital skills is not enough. 
A survey conducted by Wiley found that just 4.2% of respondents were satisfied with their level of digital skills and warned that sectors such as education and training, health and social care, construction, and manufacturing could be amongst the worst affected by this skills gap. 
Companies need to have a solid understanding of where their employees are at when it comes to their digital skills level. By surveying your entire team, you can ascertain where digital skills shortages are emerging and address them before they become a serious issue.
Even if you don't think that certain team members need to have strong digital skill sets, it's good to see what their thoughts are, as they may feel that they could perform better in their role with some added digital knowledge. 
With other companies from major industries at serious risk of falling behind, you can move your business forward and make the most out of an increasingly digital work environment that requires a broader knowledge of technical competencies. 
Artificial intelligence
According to research from Forbes Technology Council, up to 12 industries and functions will find new benefits through AI in 2022, including sectors like hospitality, customer service, content creation, and healthcare.
Data like this shows that AI will impact many roles, industries, and sectors of the economy in the coming year, and it's up to employers to keep their employees level of knowledge up to date by helping them learn new skills. 
Giving your team members a basic overview of how artificial intelligence works and how it can be expanded in roles that are traditionally less digitally focused, such as hospitality, can make a huge difference. 
Again, letting your employees take the lead can be an excellent strategy. Getting them in the know about the potential AI can have in various roles could get their creativity flowing. You may find that they will take the lead on suggesting projects or mapping out their own knowledge gaps by setting ambitious goals around the use of AI in their roles.
Creativity
The World Economic Forum listed creativity as one of its top ten job skills for the future, citing its ability to help workers adapt to a shifting job market and offer additional protection against automation. It's a future-proof skill that will survive the digital transformation and new technologies in the future of work. 
The benefits for companies can be wide-ranging as well. A heavily creative workforce can allow your company to adapt and pivot quickly and become increasingly agile.
Creativity can be helpful in all areas of a business, from helping financial managers to suggest better redistribution for company profits to UX designers finding new ways for your audience to engage with your site. 
Ultimately, the most creative teams can produce the best ideas, and getting all of your employees upskilled in creativity can revitalise a stagnating workforce. It's a great way to find new development opportunities and can always be revisited, encouraging continuous learning in your training initiatives. 
Giving your team additional skills in this area can allow for greater cohesion across the company and help your workforce understand how other colleagues can help them achieve creative goals that may require greater collaboration.
Communication
Soft skills, in general, are predicted to become core requirements towards the success of most careers in the future. Deloitte predicts that soft skill-intensive occupations will account for two-thirds of all jobs by 2030.
Principally, communication will be high up on the list of vital soft skills. Good communication can allow teams to work well together and adapt to challenges when they arise. 
Having good communication across all levels of your business, from managers to new starters, can ensure that everyone knows how to communicate wins, issues, and questions well. 
For those looking to establish high staff retention rates, regular communication training can foster a feeling of lifelong learning for employees within your business, which can be a motivating factor for employees when they are taking on skills development courses more widely.
Dedicated training courses that show employees the best communication practises and methods can boost cohesion and efficiency within a company as well as team morale.
Cybersecurity
Cybersecurity is no longer a skill set that should be kept only within your IT department. With remote working and hybrid work increasing the risk of exposure to phishing scams, it's more important than ever to make sure that employees' knowledge is up to scratch when it comes to web security.
A recent survey from IONOS Cloud found that 70% of IT decision-makers in companies said that cybersecurity was their top priority for investment or within the top three priorities, and 69% gave similar answers around data protection.
Although it shouldn't be expected for all employees to become cybersecurity experts overnight, even having a small amount of online safety awareness training can make a significant difference.
Social media
Companies are turning to social media to promote themselves, with many realising this form of marketing's true potential when they were missing face-to-face interaction with customers and other businesses in the pandemic. 
Building on that experience is a great way to move forward in 2022, as consumers are increasing the amount of time they spend using social media. Data from Backlinko shows that the number of social media users rose by 13% in 2021, totalling over 4 billion users worldwide.
Getting your team involved creatively in social media can be an excellent way to push your brand message. It can help your team members understand how they can contribute positively to plans for social media campaigns.
Reskilling your core social media team around newer platforms like TikTok and ensuring they understand the latest engagement strategies for Twitter, Instagram, and LinkedIn, is vital as they have all seen a growth in users over the past few years according to data from Pew Research Center.
The takeaway!
2022 will be an exciting year for learning and development and workforce training.
Find out how we can connect you with the right courses for your team and help you to grow and succeed in this coming year.
---
Browse Courses!